Are you looking for the best quality fertilizer for sale in Kenya? In this post will give you a list of fertilizer companies in Kenya. They include Yara, MEA and Copia. They are in business of making and/ or distributing foliar, chemical and organic fertilizer in the region. The fertilizers are fit for planting ans also topdressing your crop.
Inorganic fertilizer companies in Kenya
Are you looking for the best chemical fertilizer for sale in Kenya? The list below has major fertilizer companies in Kenya. They make or sell quality inorganic fertilizer. These are Yara, TTFC and Elgon, among others.
How can you choose the best for your maize, tomato, tea, or other crops? Consider the following factors. Ease of access, convenience and its features or make.
In terms of make, loot that it can supply all the needed crop nutrition needs. Besides, the price is another consideration, for it impacts your farm profits and costs.
TTFC
Toyota Tsusho Fertilizer Company (TTFC) is a Kenyan-based fertilizer company. It blends the Baraka fertilizer, is a crop-specific and balanced NPK. It makes both the planting and topdressing fertilizers for a range of cash and food crops in Kenya. Its planting fertilizers are for growing legumes and cereal crops like maize and wheat, and rice and rice ratoon. Others are for planting potato, tomato and onion. Its topdressing fertilizers are for vegetables and sugarcanes.
MEA Ltd
MEA makes and supplies straight, custom, organic and fertilizers branded MEA fertilizer. The straight fertilizers contain one major nutrient: either the N, P or K. Their current brands are CAN, S/A, TSP, Urea and Sulphate of Potash. The MEA compound fertilizer brands supply two or more macronutrient types for your crops. They market the DAP, MAP, NPK 23-23-0 or the 20-20-0 or 17-17-17. The MEA organic fertilizer is the Biofix; it is compost or culture of natural materials or rotting animal manure.
Yara Kenya
Yara International fertilizer company supplies over 22 fertilizer blends in Kenya. These are for growing banana, citrus, coffee, maize, melon, onion, potato, sugarcane, cabbage, wheat and tomato. Their brand fertilizers are Yara Vita (micronutrients), Yara Vera (urea), Yara Liva (calcium Nitrate), Yara Milla (compound), and Yara Bela (nitrate). Others are the Chapamelli Urea and the DAP.
Elgon Kenya Ltd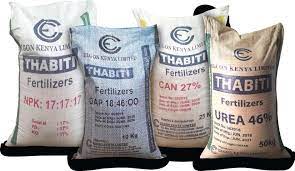 Elgon Kenya is an agri-inputs supplier in Kenya that stocks different farm inputs like chemicals, fertilizers and seeds. The rest are irrigation kits, greenhouse sheets, and plastics. Finally, they sell nets, packages and vet products. They supply different fertilizers types in Kenya. Thabiti fertilizer is its brand name. Besides, they stock many Foliar feeds and biostimulants brands from across the world. They sell some as liquids or powders.
DMBL
The Devji Meghji & Bros Ltd fertilizer company produced the DMBL Ruiru fertilizer and is sold by the Copia Kenya limited. The types from the company are DAP, NPK, CAN and Urea.
Where to buy organic fertilizers in Kenya
Are you looking for organic fertilizer for sale in Kenya? The section lists the major suppliers of organic fertilizers below. It has its names and organic manure brands.
IPSEA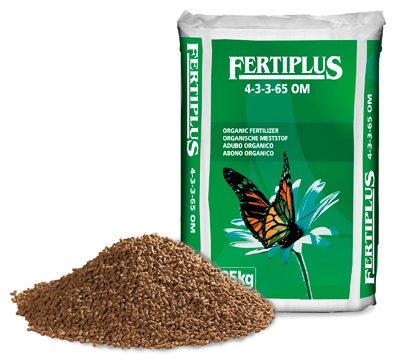 The International partnership services East Africa (IPSEA) Ltd is a local farm inputs supplier. It sells the Fertiplus Organic Fertilizer 4-3-3-65 OM in Kenya. The 100 per cent organic manure is sold as dry pellets of 25 kg each. It is an international brand made and supplied by the farm-o- feed. Fertiplus is best for tree planters, viniculture, fruit cultivation and vegetable farming.
Farm star
The farm star fertilizer company makes the Evergrow organic fertilizer brand. It contains rotten plant materials, mineral rocks, and treated biosolids. Use it to grow veggies like legumes, tomatoes, peppers, and onions. The Copia online shop is its marketer.
Essentia Kanan ltd
Essentia Kanan makes the Lisha bio–Organic Fertilizer. They make it from composted vegetables, natural organic minerals and other microorganisms.
Legorn Fertilizers
Legorn company makes and sell the Sifa organic fertilizer. The mix is for farmers who want to grow veggies, fruit trees, cereals, lawns and flowers. They supply it as granules.
Aromas
The Kenya Organic Finest Aromas Ltd (Aromas) makes the Rotuba Biofertilizer. It is an organic compound fertilizer used in top dressing and planting all crop types in Kenya.
Apart from visiting physical shops, you can order fertilizer online in Kenya. The sellers can deliver it to your home or an agreed pick up address near your home or farm. The online shops selling fertilizers in Kenya are the Copia and Jumia.