Do you want to become a rich farmer or agribusiness? You need to start by developing a sound business model. Among other things, it will help you to define your vision (why you exist) and mission (how to achieve your goals). In addition, you will answer four impoertant questions; Who: (target consumers) What: (value propositions) How: (value chain) Why: (revenue model) The post will discuss each of the parts in detail with examples.
There are two types of farmers, rich and poor. The rich farmers do more than grow crops and raise animals. They invest in aggregation, value addition and efficient distribution. They understand the benefits of formal agriculture marketing to make more money. Rich farmers write and use business plans, they use proven business models and approaches like SWOT analysis. In addition, successful commercial farmers avoid business failure by investing in crop, livestock and health insurance.
IBM customer centric model
In this post, we will discuss selected parts of a business plan. You can use it to develop a complete one that you can use to approach banks and other funders for capital.
The covered section is the business model. The article have used the customer-centric business model (magic triangle) by the BMI Labs. has four components namely: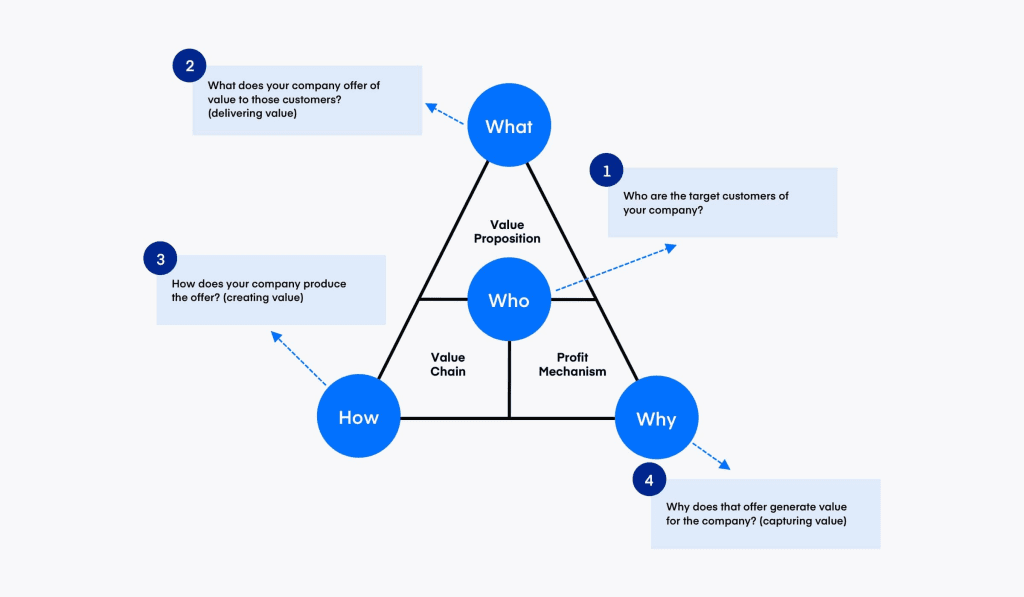 Who (Consumers)
The Who in the business model refers to the target customers of your wholesale or retail agribusiness. To get high profits target both the individual (B2C) consumers and other businesses (B2B) like consumers businesses like millers and dairy cooperatives.
To identify paying consumers, offer them high quality and affordable products and services. conduct simple market research to define their age, gender, income and location. An example of your farm's niche market can be:
Young unmarried people.
Aged between 20-35 years.
Living in the Nairobi Metropolitan.
With an annual income of $36,000 and above.
Who prefer non-meat products.
What (Value Proposition)
In the BMI lab business model, the what refers to value propositions, products and services your agribusiness will offer to your consumers. The traditional value proposition was to display your commodity in a farm shop and wait for walk-in customers. Today, grain, milk and meat traders offer various value propositions to edge out the competition. Examples you can try beyond the COVID-19 pandemic for extra profits are:
Create place utility: Make free deliveries using cheap transport like motorbikes to reduce the cost of consumers taking trips to your shop.
Aggregation and bulk breaking: collect small quantities into a large supply of cereals for institutional buyers like schools who buy in bulk. Or breakbulk by selling small quantities for individual consumers.
Diversity & choice. offer a range of cereals, pulses, dried tubers and spices products under one roof.
How (Value Chain)
The third component in the business strategy model is the How or the value chain. It includes the operations you undertake like sourcing products from other small farmers and traders, transport, storage and packaging before sales. Your value chain must be efficient and its output of high quality.
Examples farmers can become rich by working on their how are:
Direct sales to your buyers: it is costly to sell your goods using brokers. Instead, sell directly to your consumers. You may need an e-commerce site or mobile app for direct sales.
Transport: Own your own transport or hire one together with other farmers to cut on costs of transport.
Food processing: food processing or value addition is an ingenious way of making extra profits in the agriculture businesses. One cheap method is grain milling for cereal farmers. To diversify further, mill and package pure or blended maize, wheat and porridge flours.
Diversify: sell a wide range of agriculture products instead of focusing on one product only. E.g your ranch can grow hay, sell pedigree bulls and steers and open a prime cuts butchery.
Risk mitigation: Buy insurance premiums for your crops, livestock and business assets against climate and business risks like floods, fire and theft.
Why (Revenue Model)
The final component in the model is the why or your revenue model. It is how you will price, market, market, sell and collect payments or value from your customers. will you operate a physical or online shop. In terms of payments, will your farm store, dairy processor or butchery
An example for a modern vegetable fruits or eggs shop will be; use of free Social media sites like mobile Apps, Facebook and WhatsApp to market your cereal store to existing and new customers. They can view products, compare and order in advance and pay using mobile and internet banking like Mpesa. In turn, as a social distance measure against COVID-19 spread, dispatch their orders as parcels to their homes or pick up locations.