Do you want to boost your farm profits? Contract farming is your secret! This simple solution is known to unlock higher earnings for small-scale farmers while promoting food safety and yields. Besides, it will help you bid goodbye to brokers and enjoy better prices, farm inputs, credit, and timely information.
Small-scale farmers produce 70% of marketed farm commodities in Kenya. However, they make very low profits year after year. It is as a result of various challenges facing small producers in Kenya such as.
Depending on exploitative market brokers.
High volatile farm commodity prices.
High incidences of post harvest losses rated at 30% to 50% of for fresh produce in Kenya.
Farmers has a limited bargaining power as they operate in informal fragmented markets.
Contract farming can solve the above challenges translating to more money for you. Wondering how? In this post we will help you on your journey contract farming. we have covered the following important areas;
What is Contract farming?
The basis of contract farming is having a formal arrangement between a farmer and a produce buyer such as an exporter or processor. You can define contract farming as: "a pre-harvest agreement between farmers and buyers such as processing and/or marketing companies common known as sponsors. The agreement involves production and supply of agricultural produce such as crop or animal yields under forwarding agreement at predetermined prices".
Contract farming arrangements vary from sponsor to sponsor depending on factors such as crop, the objectives and resources the sponsor have and and the experience of the farmers. Broadly speaking, contract farming types fall into one of the five models below:
The centralized model.
The nucleus estate model.
The multipartite model.
The informal model.
The intermediary model.
How does contract farming work?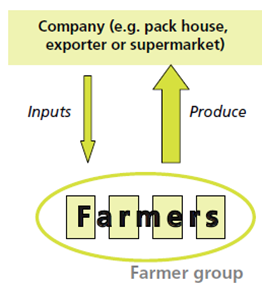 The farmer will undertakes to grow and sell a specific farm commodity in quantities and at quality standards determined by the company. The agreed quantities are in kilograms, metric tons, or liters.
Quality can be external, internal, or maturity indices. These include feeling, defects, color, gloss, or size. Internal attributes are mostly odor, texture, and taste. Hidden qualities are mostly if the produce was grown under safety.
The buying company commits to support the farmer's production and to purchase the commodity at agreed prices.
To increase yields, the out-grower will provide quality farm inputs (certified seeds or seedlings, fertilizers, and pesticides) on credit (check-off system).
They will also offer extension advice from planting to harvesting on set guidelines. They may offer other services such as plowing and crop spraying.
Upon harvesting, the buyer will collect the acceptable product at the contracted price range. The company will then remit the earnings less the costs of products and services offered.
Advantages of contract farming in Kenya
Contract farmers often make more yields and money than uncontracted farmers. These arise from the benefits that mitigate some challenges facing farming in Kenya as stated above. Those benefits are;
More money through guaranteed and fixed pricing structures, as it fixes prices in advance. Besides, it respects weights and measures unlike the informal market.
Timely access to quality basic inputs (certified seeds and fertilizers), production services (field preparation, harvesting, spraying, etc.) And a wide range of managerial, technical, and extension services.
Access to credit, either advanced, arranged, or facilitated by the purchasing company or a partner financial provider.
Ability to afford extra technologies and opportunities for commercial farming or producing for markets such as irrigation, fertilizers, field management, and vaccination etc. giving you better harvests.
You can learn and adopt new farming skills and knowledge e.g. record-keeping, chemical spraying and soil testing allowing you to produce for the export markets.
Access to more reliable markets including export and processing, which would otherwise be inaccessible to remote small-scale farmers. The buying company may aggregate, store and transport produce on behalf of farmers.
Problems of contract farming
Besides the promise of more profits and yields, contract farming can present have some problems. Below are four challenges of contract farming that face farmers.
When growing a new crop, farmers may face the risks of both market failure and production problems
At times, not all contracted production is purchased and you end up facing post harvest losses.
Sponsoring companies may be unreliable or exploit a monopoly position
The staff of sponsoring organizations may be corrupt, particularly in the allocation of inputs
Farmers may become indebted because of production problems such as weather and excessive advances
Contract farming and farming groups
According to studies, contract farming is beneficial in a producer group or cooperative than with individuals. In addition to shared risks, the group serves as a convenient and efficient organizational unit. The company can coordinate bulking of produce and provide farm inputs, credit, and training to the group members together rather than individual efforts.
Individual members and the off-taker have a role to play for success. The buyer should invest in building the capacity and improving the cohesiveness of the groups. Training them on group forming skills, formally registering the group, and providing literacy and numeracy training can help in this. Contracted members have to comply with group rules and regulations to ensure quality yields and profitability.
Contract farming and value chain development

Sustainability is key in agriculture and rural development programs and projects. Contracted farming is a reliable approach for economic growth and development initiative. you can continually include fragmented individual farmers into profitable, inclusive and competitive value chains using the above model.
Individual smallholder farmers taking part in spot trading in an informal and segregated market environment starts to sign seasonal contracts with local buyers and companies.
As farmers enjoy advantages of contract farming, they can form and mobilize members into formal producer groups such as farmer groups or cooperatives to enjoy economies of scale. They can use these enterprises to negotiate for better formal short-term and long-term supply contracts.
As their cooperative or company grows, they can negotiate joint ventures with suppliers to invest in expensive investments such as milk coolers.
As a strategic goal, the company can dominate various areas of the value chain such as running a farm input shop, transport of produce from farms to the processing plant, Value addition, and distribution by signing large contracts with various stakeholders in the value chain.
FAQs on Contract farming in Kenya
Below is a summary of the most frequently asked questions about contract farming in Kenya
Can I be contracted to grow any agriculture commodity?
Any crop or livestock product can theoretically be contracted. However, certain products favor specific conditions to ensure the sponsors or buyer's adequate supply.
Which companies do contract farming in Kenya?
Below are 5 examples of companies doing contract farming in Kenya.
The Kenya Tea Development Agency (KTDA), a private firm, has one of the largest contract farming networks in the world, with more than 500,000 small-scale tea growers.
Kenchic Limited offers contracts for poultry farmers who meet certain requirements through its farm-to-fork policy for enhanced traceability.
Farmers Choice Ltd. contracts pig farmers to rear healthy pigs that are fit for human consumption which should be free from disease and originate from disease-free areas.
Kenya seed company. The largest seed company in the regions contracts farmers to grow maize, sorghum, wheat, rice, pasture, oats and sunflower planting seeds. The company reported to pay seed maize farmers Sh. 61 per kilo in 2016/17 and Sh68 in 2020/21 season.
Kakuzi fruits processing company, The company engages 3,500 smallholder avocado farmers who supply fruits on contract, ten active smallholder groups and seven active outgrowers from Murang'a, Kirinyaga, Nyeri, Meru and Nandi counties.
Which are examples or types of contract farming in Kenya?
Contract arrangements in the Kenyan farming industry fall under the four models namely; centralized model, multipartite model, intermediary model and the informal model.
Is contract farming profitable in Kenya?
Yes, under effective management, Contract farming (CF) is profitable for both the contractor and the farmer.