How can you a small scale farmer earn higher profits? Contract farming is the answer. It is a simple way for you to improve your farm profits. It works by bypassing brokers, locking better prices, and access to farm inputs, credit, and information on time.
Small-scale farmers produce 70% of marketed farm commodities in Kenya. However, they enjoy low profits because of 3 key challenges. Depending on brokers, highly volatile farm-gate prices and limited bargaining power in informal fragmented markets. Finally, they suffer huge post-harvest losses of 30% to 50% of their fresh produce.
What is Contract farming?
You can define contract farming as: "a pre-harvest agreement between farmers and buyers such as processing and/or marketing companies. The agreement involves production and supply of agricultural produce such as crop or animal yields under forwarding agreement at predetermined prices".
How does contract farming work?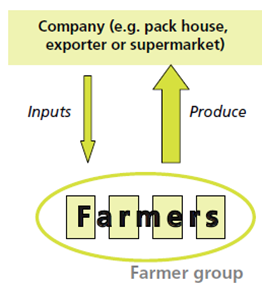 The basis of contracted farming is having a formal arrangement between a farmer and a buyer.
The grower undertakes to provide a specific farm commodity in quantities and at quality standards determined by the company. The agreed quantities are in kilograms, metric tons, or liters. Qualities can be external, internal, or maturity indices. These include feeling, defects, color, gloss, or size. Internal attributes are mostly odor, texture, and taste. Hidden qualities are mostly the product of safety.
The buying company commits to support the farmer's production and to purchase the commodity at agreed prices. To improve yields, the out-grower will provide quality farm inputs (certified seeds or seedlings, fertilizers, and pesticides) on credit (check-off system). They will offer extension advice from planting to harvesting on set guidelines. They may offer other services such as plowing and crop spraying. Upon harvesting, the buyer will collect the acceptable product at the contracted price range. The company will remit the earnings less the costs of products and services offered.
Benefits of contracted farming in Kenya
Contracted farmers enjoy improved food security and incomes. These arise from the benefits that mitigate prevalent market failures and reduce the risks facing smallholder farmers;
Higher profits through guaranteed and fixed pricing structures, as it fixes prices in advance. Besides, it respects weights and measures.
Timely access to quality basic inputs (certified seeds and fertilizers), production services (field preparation, harvesting, spraying, etc.) And a wide range of managerial, technical, and extension services.
Access to credit, either advanced, arranged, or facilitated by the purchasing company or a partner financial provider.
Access to technology and opportunities to upgrade agricultural commodities for markets that demand prime quality; these include irrigation, field management, and vaccination, GAPs, etc.
Transfer of skills and knowledge (e.g. record-keeping, improved methods of applying chemicals and fertilizers, knowledge related to quality and the requirements of export markets);
Access to reliable markets, which would otherwise be inaccessible to small farmers. The company may aggregate, store and transport produce on behalf of farmers.
Contract farming and farmer groups
A farmer group is better in contractual farming than individuals. It serves as a convenient and efficient organizational unit. The company can coordinate bulking of produce and provide farm inputs, credit, and technical help to the group members.
Individual members and the off-taker have a role to play for success. The buyer should invest in building the capacity and improving the cohesiveness of the groups. Training them on group forming skills, formally registering the group, and providing literacy and numeracy training can help in this. Contracted members have to comply with group rules and regulations to ensure quality yields and profitability.
Contract farming and supply chain development

Sustainability is key in agriculture and rural development. Contracted farming can act as a reliable approach to change how the market operates. Individual smallholder farmers taking part in spot trading in an informal and segregated market environment can start by signing seasonal contracts with local buyers and companies. As they interact more, they can mobilize members into formal producer groups such as farmer groups or cooperatives. They can use this to negotiate for better formal short-term and long-term supply contracts.
As their cooperative or company grows, they can negotiate joint ventures with suppliers to invest in expensive investments such as milk coolers. As a strategic goal, the company can dominate various areas of the value chain such as running a farm input shop, transport of produce from farms to the processing plant, Value addition, and distribution.