Are you looking for the best flowers to grow in Kenya? In this post, we will give you the 15 best types of flowers among farmers, exporters and florists. As the largest blooms producer in Africa, Kenya is known for her international flower delivery to high-end markets in the USA, EU and Asian Countries. In the local market, you can order beautiful flowers for your occasions and holidays such as weddings, valentines and graduation.
Whether you are investing in the flower farming business, here are the flowers with the highest demand to consider for your flower farm or shop. The most popular flower types in Kenya include roses, lilies, carnations, and sunflowers.
Roses (Rosa spp.)
Rose flowers are a timeless favourite in the global flower market. Kenyan roses, in particular, are highly sought after due to their vibrant colours, long stems, and exceptional quality. They thrive in Kenya's climate and are suitable for both greenhouse and open-field cultivation.
Varieties like T-hybrids, Grandifloras, and Spray Roses are popular choices among Kenyan flower growers. Apart from their use as love flowers, roses are a perfect choice for special occasions, corporate gifting, events and weddings.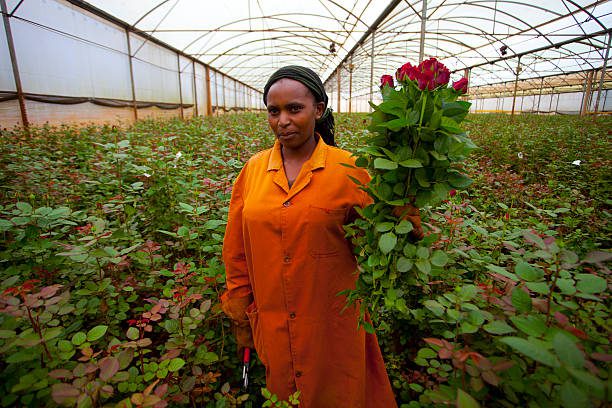 Dendrobium Orchids (Dendrobium spp.)
Orchids are elegant and exotic flowers that have a strong presence in the premium flower market. Dendrobium orchids are well-suited to greenhouse cultivation and have a growing demand worldwide.
Whether you're marketing orchids for personal enjoyment, events, or business endeavours, these captivating blooms have much to offer. Their intricate and exotic appearance offers a myriad of marketing opportunities beyond conventional flower sales.
Carnation (Dianthus caryophyllus)
Carnations are known for their long-lasting blooms and wide range of colours. They're a staple in the cut flower industry and are well-suited to Kenyan growing conditions. Carnations can be grown both in greenhouses and open fields, making them a versatile choice for flower farmers.
Beyond being a symbol of love and admiration, Carnations bouquet' delicate ruffled petals and sweet, spicy fragrance, have a timeless charm that appeals to a wide range of customers and occasions. Carnations are cultivated with care, making them suitable for both greenhouse and open-field cultivation. T-hybrids, Spray Carnations, and Standard Carnations are among the popular varieties cherished by Kenyan flower growers.
Lilies (Lilium spp.)
Lilies are elegant and fragrant flowers that have a strong presence in the international flower market. Kenyan-grown lilies are known for their quality and are in high demand. Popular varieties include Asiatic lilies, Oriental lilies, and Longiflorum lilies.
Lily flowers are available in a wide range of colours, including white, yellow, orange, pink, red, and various combinations of these hues.
Alstroemeria (Alstroemeria spp.)
Alstroemeria, also known as the Peruvian Lily or Lily flower of the Incas, is a flower with unique, colourful petals. It's a great choice for Kenyan flower farms due to its long vase life and ability to thrive in the Kenyan climate.
Gypsophila (Gypsophila spp.)
Gypsophila, often referred to as "Baby's Breath," is a delicate and dainty flower that is commonly used as a filler in floral arrangements. It complements other flowers beautifully and has a long shelf life, making it a valuable addition to your flower farm.
Chrysanthemums (Chrysanthemum spp.)
Chrysanthemums, or "mums," are known for their wide variety of shapes and colours. These flowers do well in Kenya and have a strong market demand, especially during the fall season when they are used in various floral arrangements and decorations.
Gerbera Daisies (Gerbera jamesonii)
Gerbera daisies are known for their large, colourful blooms and are popular for bouquets and arrangements. petals and long-lasting freshness.
They require special care and are often grown in greenhouses to protect them from Kenya's variable weather conditions. With varieties ranging from classic single-petaled to multi-petaled forms, they offer endless possibilities for creative floral expressions.
Sunflowers (Helianthus annuus)
Sunflowers with their vibrant yellow and orange petals are popular for their cheerful appearance. They can be a great addition to your flower farm, especially as they can be used in both bouquets and flower arrangements.
sunflowers thrive in various settings, including large-scale commercial farms and charming backyard gardens. Varieties like "Giant Russian" and "Dwarf Sunflowers" find favour among Kenyan flower enthusiasts and growers. With their sunny disposition and ability to brighten any space, sunflowers are an ever-popular choice for bouquets, floral arrangements, and garden landscapes, symbolizing joy, optimism, and the beauty of nature.
African Marigolds (Tagetes erecta)
These hardy, low-maintenance flowers come in various shades of yellow and orange. African marigolds are known for their pest-repelling properties and can be cultivated alongside other crops as a natural pest control method.
They are cherished by Kenyan gardeners and florists for their versatility and resilience. Whether used as pest deterrents in vegetable gardens or as eye-catching additions to floral arrangements,
Hibiscus (Hibiscus spp.)
Not necessarily grown for export. The hibiscus flowers are a delightful addition to any garden, known for their striking appearance and versatility. In Kenya's favourable climate, hibiscus thrives with its dazzling petals and iconic trumpet-shaped blooms. These vibrant flowers come in various colours, including red, pink, white, and yellow, adding a splash of tropical beauty to the Kenyan landscape.
Hibiscus is well-suited for both garden beds and container gardening, making it an accessible choice for urban gardeners. With its lush foliage and frequent blooming, hibiscus brings a touch of exotic charm to the Kenyan gardening scene.
How to choose the best flowers for your Farm
As shown above, There are many popular flower types and varieties in Kenya. They include roses, lilies, carnations, and sunflowers. How do you choose the best for your farm? Consider factors such as flower quality, vase life, and the potential market value of each variety when making your selection.
Market demand, Ensure that the flowers you grow will sell based on past and current market trends. You can also focus on a certain gap or niche.
Adaptability to your location, choose flower varieties that are well-suited to your location's soil type, climate, and water availability.
Profitability, Choose flowers that have the largest market value given factors such as production costs, labor and transportation.
Flower qualities such as flower size, colour, and fragrance, as well as their vase life and resistance to pests and diseases, will influence the flowers that you grow.
potential market value, research the potential market value of different flower varieties and the factors such as supply and demand, seasonality, and consumer preferences that influence prices.
Conclusion
Choosing the right flower types to grow on your Kenyan flower farm is a critical decision that will impact your success in the cut flower export market. The flowers mentioned above are some of the best options to consider but remember that success also depends on factors like soil quality, climate, and proper care and management.
Before you start your flower farming venture, conduct thorough research, and consider consulting with local agricultural experts or flower farming associations. By selecting the right flower types and implementing best practices, you can join the ranks of successful Kenyan flower exporters and contribute to the country's growing reputation in the global cut flower industry. Happy flower farming!