What you need to know about Sustainable Agribusiness Development?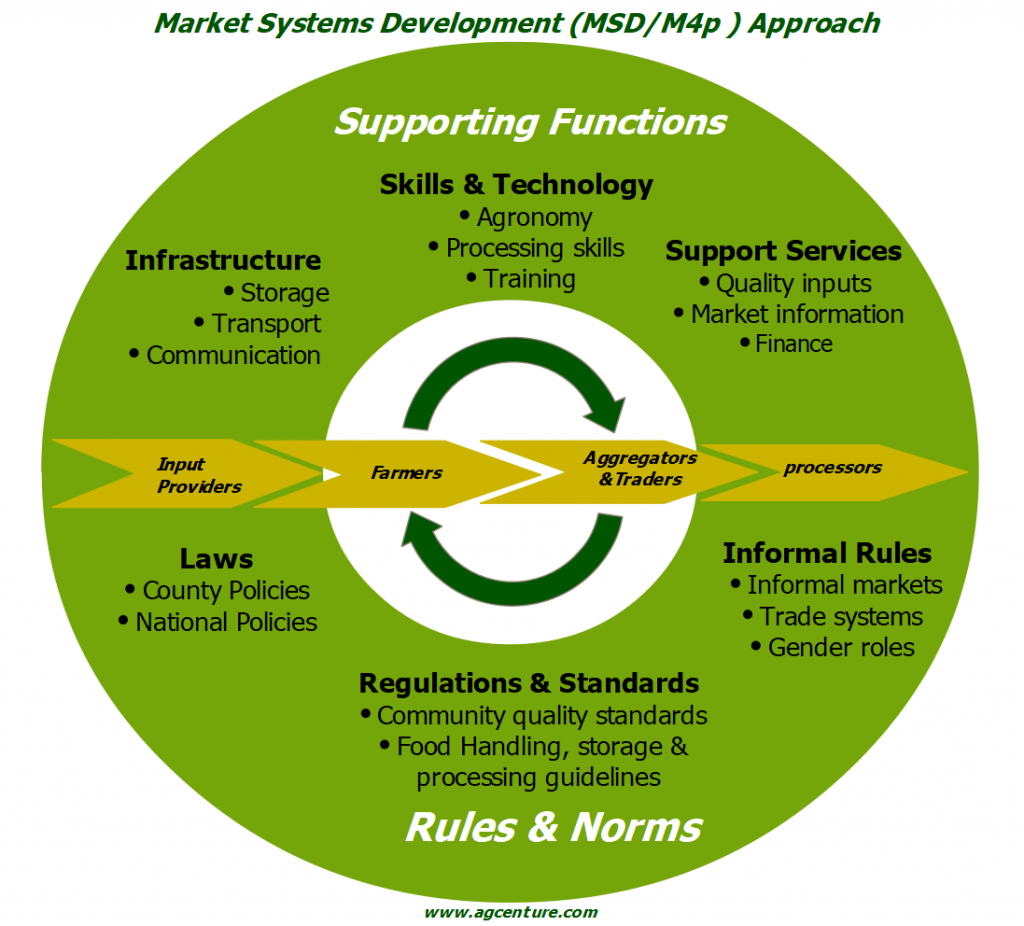 Agcenture is launching a new segment on sustainable agribusiness development (Agri development) topics. As a preeminent consulting firm in the area, we will share its learning and experiences in program management, monitoring and evaluation (M&E) and donor reporting assignments in the past.
This new category will focus on theory and best practices that stimulate and sustain progress in rural development programs. These goals include the international goals as contained in the UN sustainable development goals 1-17. It will feature those whose aims are to improve food and nutrition security, health, employment, income or gender inclusion programs as contained in the log frame.
Those can be achieved through increased productivity or yields, access to markets. Adaptation to climate change or commercial farming etc.
What is sustainable agribusiness development.
To understand agribusiness development, Agcenture uses various approaches like the markets systems development (MSD) approach, value chain analysis and systems thinking.
As illustrated in the diagram above using the MSD approach, agribusiness involves all the agriculture business activities from sourcing farm inputs, farming, aggregation, agri and food processing, trade, consumption and waste management. To a achieve efficient transact among those players, the agribusiness sector is governed by rules and norms on one end and supported by supporting functions on the other side of the donut.
Sustainable agribusiness development means a transformation or a paradigm shift on food and agriculture market systems' regulatory environment and supporting functions to achieve efficient, inclusive and highly specialized beneficial value chains. In other words;
All the factors that are necessary to achieve beneficial transactions in exchange for agricultural goods and services between smallholder producers, their input suppliers and food traders in the local and regional food markets are efficient.
These transactions are facilitated affordable and ample supporting functions such as infrastructure, support services and skills and technology.
The regulatory environment has supportive formal and informal rules and norms that facilitate inclusive participation of both the public and private players across the value chains from producers to consumers.
To change the status quo to the new market state will require sound planning, financing and execution of different plans, projects and programs. It is tracked on continuous and scheduled monitoring evaluation and reporting of results. These three key areas; program management, monitoring and evaluation and financing will be the bulk of this blog segment.
Agriculture and rural development topics
What are the tags or topics that agri development will cover? This topic will focus on development programs agriculture finance, agribusiness SME management, gender inclusion, market research, Monitoring and Evaluation and finally program management tips.
Some articles to expect are on fundraising, grant management, budgeting. Others will focus on designing Result chains, drafting M&E manuals, tracking and reporting indicators, target results etc. Project management ones will centre on Mobilizing beneficiaries like farmers and traders into formal producer and trader groups, how to drafts interventions, strategies and plans etc.
Audience
Are you an international trade and development expert like a program manager or officer, Monitoring, evaluation, accountability and learning assistant or project accountant etc in the agri-based development space? You are likely to benefit from this blog. Others are beneficiaries like farmers and investors in agriculture food systems like input suppliers, food processors, cooperatives and food traders.