In this post, learn about ecofriendly and cheap transport innovations from Kenya. They are electric tuk-tuks, motorized handcarts (mikokoteni) and electric boda boda.
Efficient transport is essential for food safety and profits. Farmers can sell more fresh perishable goods cutting on post-harvest food losses.  Distant consumers can access nutritious products within the shortest time possible.
Access to cheap, efficient and eco-friendly transport is a challenge in marketing farm products in many parts of sub-Sahara Africa. Food producers and traders in the region still use human drawn and animal carts for transport. As a result, many face food spoilage while in transit.
Read Also: Agribyte: A Mobile Solar-powered milk chiller.
Tuk-tuks are preferred than matatus by food traders in Kenya. They can ferry heavier loads than motor bikes and manoeuvre easily in narrow streets and congested traffic jams. They are cheaper to buy, fuel and repair than motor vehicles. However, the majority of them use costly diesel or petrol. Their use contributes to harmful air pollution. Besides, they are noisy.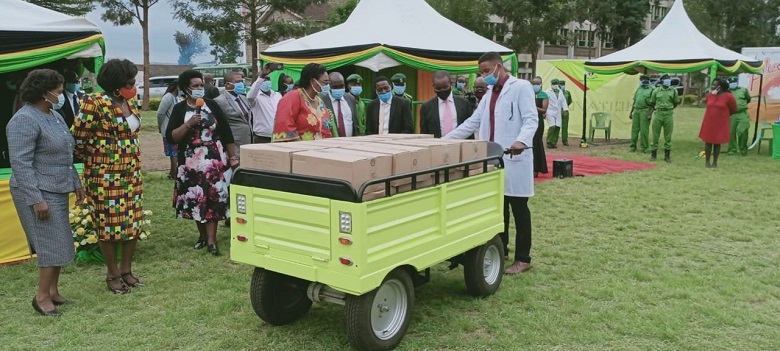 The other cheaper option is handheld carts. Though they don't have any fuel and maintenance costs, their major limitation is their limited load capacity. Since they depend on human energy push or pull if you were to carry a considerable weight you need 2 or 3 people. Besides, they can only transport goods over a short distance as people get tired.
Recent innovations in Kenya will improve her transport sector. Gardeners and traders have an option to transport more goods for longer distances at a lower cost. They can use an electric tuk-tuk or a motorized handcart.
The innovations are by Kenneth Guantai, an innovator with the National Youth Service (NYS) of Kenya.
He said his innovation is to help transporters using manual handcarts to buy the mechanical ones. Second, it is an eco-friendly tech that will reduce the use of fossil fuels.
He said the motorized handheld carts are unique because they can carry more capacity. He added their owners will make more profits by working for long hours without tiring and carrying larger loads. The carts use a battery and a motor to rotate the axial. The fully mechanized hand cart has an ignition key, a dashboard and a throttle.
The NYS electric tuk-tuks will carry more passengers and load capacity than any other model in the country. You can carry 1.5 tons load or six people. It is self-charging and can go for 300 to 500 kilometres.
NYS e-tuks has many benefits. They are silent, eco-friendly and will use local materials to assemble. They will cut operational costs since they do not require fueling.
The price of the new e-trikes is around Sh400, 000 to Sh500, 000. The cost will reduce once NYS starts mass production and commercialization. The buy Kenya build Kenya initiative is likely to boost this area to create manufacturing and job opportunities for the youth. Moreover, there are many commercial banks offering tuk-tuk loans.
How can you use e-tuks and hand carts in agriculture?
Tuk-tuk transport business is thriving in the country since the late 2000s. They are more popular in major towns like Nairobi, Mombasa and Kisumu cities. This has led to the growth of support businesses to assemble, sell spare parts, and repair them.
Additional agribusiness ideas you can start using e tuk-tuks in Kenya include;
Running a mobile food business delivering food to offices and homes using e-tuks
Distribution of farm inputs and commodities to consumers and urban farmers.
Electric vehicles produce no harmful emissions while running. You can use the motorized handcarts to transport items in food factories and warehouses.
Eco-friendly mobile shops and fast-food outlets selling fresh fruits and juices
The NYS e-tuk is the second introduction in the country. In 2018, A Mombasa based company, the Dave Tuk-Tuk limited introduced the eco-friendly rickshaws in Kenya. Their model price is Sh320, 000. It takes eight hours for its battery to get fully charged. A fully charged battery can go up to 120kms.
There are auto companies in the region offering electric motorbike batteries charging business. A rider will walk into their recharging shop and swap their low-charge batteries with fully charged ones. In Nairobi, you can visit the Fika Mobility while in Kampala, visit Bodawerk. Bodawerk charges their customers $3 (Sh300) to lease batteries for a day.
NYS being a local, can custom-fabricate the trikes for local users.