Kenya presented her budget allocations for the financial year 2020/21 on June 11th. Total funds for the period are KES 2.79 trillion. Its theme is "Stimulating the Economy to Safeguard Livelihoods, Jobs, Business and Industrial Recovery". It seeks to tackle the current shocks facing the country's economy such as the locust's invasion, floods and COVID-19 pandemic.
Improving food security is a crucial area for this period. It is part of the "Big Four" agenda and the 8-point Economic Stimulus Plan (ESP). In this post, we review and analyze those budgetary allocations on the sector.
Overview & Trend
The 2020/21 budget allocation for food security is KES 52.8 billion. The FY 2020/21 allocation is an 11 per cent decline from KES 59.1 billion in FY 2019/20. This allocation is 1.89% of the total national government budget compared to 2.2 per cent of the total budget in FY 2019/20. Budgetary allocation in the country has been dwindling from 3.5 per cent in 2016/17.
Related: Kenya's Sh 54bn Stimulus Package- What it Means for Agriculture
These funds are intended for 14 principal areas. These are irrigation, large-scale production and good farming practices. Others are climate-smart farming, blue economy and value addition. Blue economy, processing title deeds and providing farm inputs are other areas. The budget is in line with the Agricultural Sector Transformation and Growth Strategy (ASTGS).
Detailed budgetary Allocations
The 52.8 Billion will be shared among fourteen areas as detailed in the diagram above.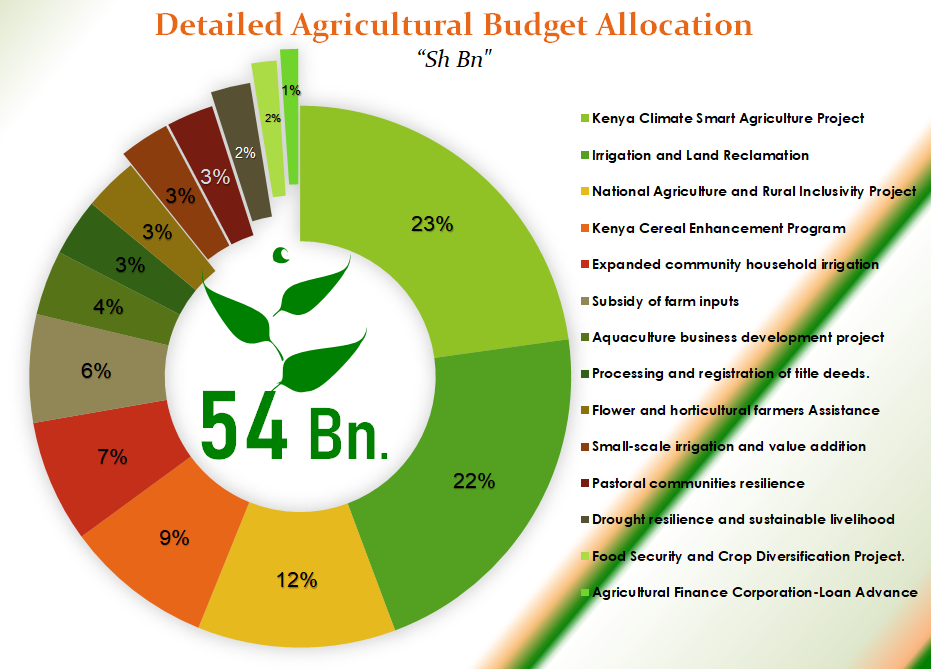 Kenya Climate-Smart Agriculture Project is the highest funded project of KES 10.6 billion. The 2nd and 3rd most-funded areas are irrigation and land reclamation and the National Agriculture and Rural Inclusivity Project. These will receive 12 per cent and 9 per cent, respectively. The government will use KES 4.1 billion for the large-scale production of the Kenya Cereal Enhancement Programme.
In the 8-point ESP funds for improved food security will focus on three areas of subsidies for supplying farm inputs. This allocation of KES. 3 billion, will benefit 200,000 small-scale farmers in a voucher. KES. 3.4 billion, will expand community household irrigation. A further KES. 1.5 billion, is set aside for flower and horticultural farmers to access international markets during this period of low cargo traffic into and out of the country.
Resilience is an important area in the next financial year. KES. 1.1 billion, will be used to build resilience and sustainable livelihood for farmers against drought. The pastoral communities will have a separate KES. 1.3 billion funds. These funds focus is to increase agricultural productivity and outputs, enhance livestock resource management and development.
Small-scale irrigation and value addition has a KES. 1.4 billion allocations. This will impact on increasing per capita water storage capacity for irrigation in the country among the smallholder farmers.
To improve on improved land management for sustainable development, KES. 1.6 billion, is for supporting the processing and registration of title deeds.
Our blue economy in aquaculture's business development project has KES. 1.8 billion. KES. O.5 billion is an advance on agricultural loans through the Agricultural Finance Corporation. KES. 730 million will go towards research and development under the Food Security and Crop Diversification Project.
Pending Bills.
Other notable areas of the budget on agriculture are pending bills and tax.
The budget has proposed a VAT exemption on maize (corn seeds) from the current 14 per cent. This will make them more available to farmers at affordable prices. Maize is Kenya's principal staple food.
The state department of crop development and agriculture research has pending bills of KES 12.3 billion. Around a third per cent (KES 3.9 billion) of these amounts are unpaid bills from FY 2016/17 and FY 2016/17 owed to maize millers and traders.
Key Takeaways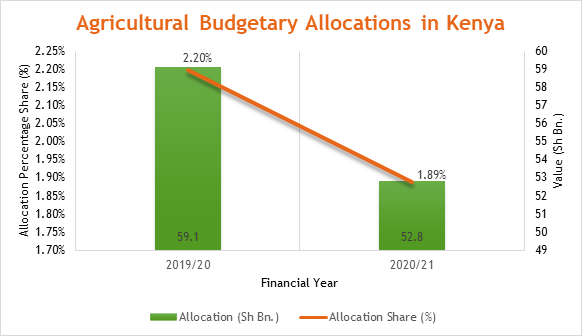 Agriculture is a major economic pillar in Kenya. It contributes around 33 per cent of her GDP and employs 40 per cent and 70 per cent of her total and rural populations, respectively. Given its importance, we consider it a key economic pillar in Kenya's economic development plans such as Vision 2030, the Big four agenda and the new 8 point ESP.
However, the budget does not motivate stakeholders for two reasons;
First, the allocation in the current year's budget of 1.8 Percent remains far below the 10 per cent Maputo Declaration. Besides, it does not match the sector's GDP contribution of around 33 per cent. Second, the sector's share of the total national budget has been dwindling. The FY 2020/21 allocation of 1.89 per cent is lower than 2.2 per cent of the total budget in FY 2019/20. In FY 2016/17 the share was 3.5 per cent.