Which farming investment opportunities can you easily identify from the Kenya 2019 census data and results? In this blog post, we highlight the priority business ideas for individuals, businesses and the governments . The high population and urbanization rates provide a huge demand for food. This provides the following agribusiness opportunities;
Farmers and ranchers will benefit through production and supply of ample and healthy livestock and safe crop products.
Agribusinesses such as Agro dealers, bankers and suppliers will sell more farm inputs, machines, equipment and other related services.
Governments will facilitate commercialized farming by developing and executing facilitative policies on land use, digitizing farms, agro-processing and mechanization.
Related: 2019 Census Results: Insights on Kenya's Agriculture
Market Opportunities
Census results provide five agribusiness opportunities you can consider.
Demographic Transformation
The census results provide interesting insights on demographic transformation in the country. 30.8 per cent of Kenya's population is living in urban areas. By 2050, half (50 %) of the projected population of 96 million people ( double the current population) will be urbanites. The current per capita consumption of meat, milk and eggs in Kenya is 16 kg, 121 litres and 45 pieces per person in a year. This will grow higher as the population increases and more people migrate to towns As a result, the demand for the following goods will exponentially increase.
Healthy livestock products especially the white meat, milk and eggs
Safe crop products mostly the organically grown fruits and vegetables
This is a huge potential for investors to revamp our agricultural sector. This will centre on agribusiness opportunities in crop and animal production, food processing, product differentiation and food quality and safety assurance to meet the present and future demand for quality vegetables, meat, milk and eggs.
Urban Agriculture
According to Census Results, Kenya has a population density of 82 people per Square Kilometre. The same data shows the country has a livestock population of over 100 million animals. Increased animal and human populations affect land ownership and control. Urbanization, desertification and industrialization will eat our available agricultural land significantly as already experienced in the larger Nairobi metropolitan areas around Kiambu, Kajiado and Machakos counties.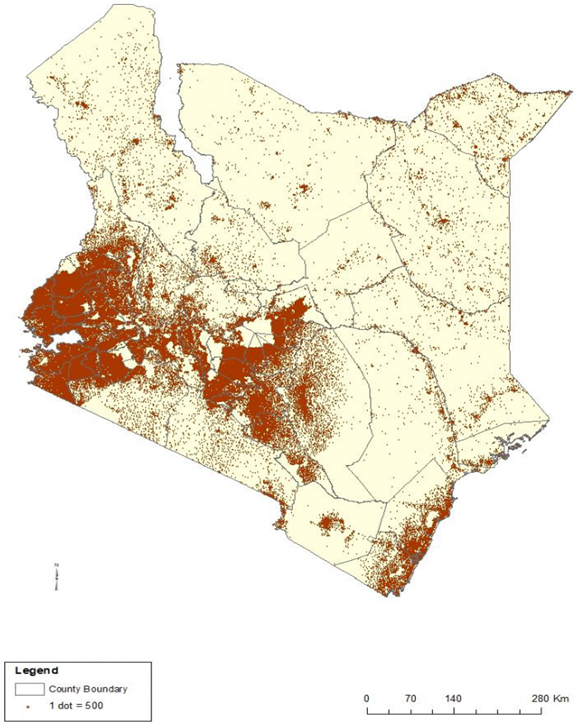 Producers must be creative to maintain high agricultural production in lesser parcels of land. Such options include the adoption of zero acreage or vertical and soil-less farming like the use of hydroponics systems. Going forward, there must be progressive efforts to govern our land usage and natural resources exploitation.
Environmental challenges
The increase in population will raise the demand for livestock products and safe crop products. This provides opportunities for livestock and crop farmers to supply food. This will create business growth opportunities for other value chain players; agro-dealers, traders, processors, wholesalers and retailers. However, additional agricultural activities are likely to spark environmental and livelihoods related challenges.
Digital farming
Technology has disrupted all aspects of our life, including gardening. Younger farmers will have to produce safe food remotely using capital intensive and labour-saving methods such as ranching, zero-grazing and greenhouse farming. This will see the emergence and growth in digital farming and other remote farming techniques by the couch and telephone farmers. This will lead to a spike on investments use of sensors, robotics, drones and driverless tractors. This provides huge potential for employment creation, poverty reduction and improved food security.
Zoonotic Diseases and public health
Fast Urbanization growth rates will lead to the establishment of many commercial farms and food processors in and around urban areas to tap into large markets. Some challenges of urban farming include hazardous water, soil and air contamination leading to public health and environmental threats.
Highly populated areas in future will lead to closer interactions between humans, animals and wildlife. This will lead to an increased emergence and spread of zoonotic diseases like the current coronavirus whose epicentre is believed to be a wild animal market in China. The country must start strengthening the national health systems to curb such a possibility.
Best Agribusiness Ideas in Kenya
The above insights outline following beneficial agribusiness ideas for an individual or a farming business considering to invest in Kenya. These are urban farming, Digital farming, and climate-smart agriculture;
Urban farming
Each urban household can and should grow some food right within the city and town boundaries. As more people settle in towns, we must shift our food production from being Over-reliant on rural production. Learn how you can become an urban farmer to produce quality food for self-consumption and sale right on your rooftops, back yards, vertical walls and balconies.
Climate-smart Agriculture (CSA)
For a country whose food supply is insufficient, you have a ready market for any food you produce. This makes it easy to scoop back any of your investment. However, many challenges such as adverse weather and pests like locusts threaten your farming. Invest in Climate-smart farming methods like protected farming and intensive production systems such as use of hydroponics, green and net houses, zero-grazing and intensive commercial pig and poultry rearing to reap most profits.
Alternative crops and livestock farming
Demand for healthy livestock and safe crop products calls for higher supply alternative crops and animals like mushrooms. These Speciality crops and livestock fetch higher profits as compared to conventional crop and animal production. Some of them like the orphan crops; millet, green grams, cowpeas and sorghum can do well in semi-arid regions benefitting millions of agro-pastoralists. Others like the exotic herbs and African leafy vegetables are highly profitable in a short time and can be grown organically in urban farms.
Agriculture 4.0 /Smart Farming
Future farming will be more digitised. You can stand in the gap by supplying products and offering advisory services to telephone and couch farmers. Notable areas are on choosing farm sensors, robotics, drones and driverless tractors. you can also specialise in setting up farm decision support systems to collect, analyse and interpret data for informed decision making in farm operations. Use this information to cut costs and automate farm operations like chemical spraying, surveying, irrigation and digital marketing.
Agriculture Consulting
Some propositions such as the use of drones in agriculture and farming in cities have a weak policy framework in the country. There is a need for heavy involvement by the government to develop and execute facilitative rules and regulations to allow for fair play by various market players. Private-public investments will bridge investment gaps in agro-processing and research.
Whereas mediocre entrepreneur's players will capitalize on animal and crop production, make more money by focusing on associated good and service provision such as animal feed formulation, value addition and online market linkages. We offer market research and business plan development for agriprenuers. Contact us today for a quote