Are you a proud owner of a motorbike or bodaboda and looking to make more money? Why not use it for cheap pumping of water for irrigation in your farm? Not only will you be putting your idle motorbike to good use, but, you'll also be saving money and making money. These will come from increased farm yields an service fees by leasing your motorbike-powered water pump to your neighbors.
In this post, Learn how to use your idle motorbike, tuk tuk or micro cultivator in the cheapest irrigation method using the Motorbike-powered water pumps. you will learn the following
How does a motorcycle water pump work?
The use of motorbike-powered water pumps dates back to early 2000s. The cheap innovation has a massive adoption in Asia especially in China and India. Its adoption in Africa remains relatively low.
Typically, the pump is connected to the motorcycle's drive shaft, and the power is transferred to the pump through a system of gears and pulleys. Some motorbike-powered water pumps have a clutch that allows for engagement and disengagement of the pump from the engine, so the engine can be running and the water pump is not pumping.
The motorcycle water pump is a lightweight design weighing 1.6 kilograms only. Its dimensions are 210 by 180 by 150 mm. It has an intake and output tubes. It uses a spindle to pump water. It's quick to assemble it, taking between 6-15 minutes only.
The fuel consumption and volumes of water pumped depend on the slope. other important performance features of the motorbike water pump are summarised below
The spindle can attain a speed of 1500-5000 rotations per minute (RPM) when the engine is on an idle run.
The pump will consume fuel of 0.2 to 0.4 liters only per hour.
The motorcycle powered water pump can pump 22 m3/hour to 40 m3/hour (22,000-40,000 liters per hour) of water.
The pump can attain a continuous operating time of 100 hours non stop.
The machine can pump water from a 10 metre deep well and can pump water uphill on a slope of 50 m.
A motorbike-powered water pump uses the power of a motorcycle engine to drive its pumping mechanism. The water pump is connected to the motorcycle engine on its power take over, commonly known as the engine shaft. The pump then uses this power to draw water from a source, such as a well or a river, and pump it to the irrigation system or another destination.
Why use the motorbike-powered water pumps?
What makes motorbike-powered water pumps the cheapest irrigation water pumps for you. Consider the following superior benefits for this justification.
They are more efficient and cheaper to buy, operate and maintaing than the traditional diesel and petrol generator water pumps. Since it uses the power of the motorbike engine to pump water, it eliminates your need to buy another farm machine. Its for this reason that they are the most efficient and cost-effective irrigation solution for small and medium-sized farms.
Motorbike-powered water pumps are a more more flexible and can be easily moved to different areas of your farm as needed. Since its attached to a moving a motorbike, you can easily and efficiently water your crops or animals, no matter where they are located on your property.
Besides irrigation, the water pumps can be used for other purposes such as cleaning, dust suppression and fire fighting.Youth investors can use it to pump water at construction sites and car washes.
By using your idle motorbike or bodaboda, you'll be saving money on fuel costs and maintenance.
They are easy to attach and operate, even for those with limited technical knowledge, making them a great choice for farmers of all experience levels.
Why we need to adopt motorbike-powered water pumps in Africa?
The popularity of motorcycles in Africa is particularly high in countries like Kenya Nigeria and Egypt. As a cheap and reliable transport it has brought significant economic benefits to millions of people around Africa such as job creation. This serves as a prime example of the potential impact to the region, if it adopted the use of motorbike-powered water pumps. It would be a cheap irrigation solution for improving food security in a region facing acute food shortage for decades. Besides it would create employment and promote innovations.
Food security: A 2016 study shows that drip irrigation can increase crop yields by up to 7 times in Kenya. Given 83% of Kenya's land is semiarid or Arid Land (ASAL) Motorcycle water pumps is a cheaper method of small and medium scale farms.
Job Creation: Motorcycle water pumps will create many business opportunities for the youth in the region. You can import, assemble and sell them. Other business ideas are repair, maintenance and farmer training. Adoption of motorcycyle powered water pumps has a huge potential to create youth employment and other profitable generating businesses in supply of spare parts, repair business and other related services.
Innovations: Unlike the single-use diesel or petrol generator irrigation pumps that are idle when not in use, a motorcycle water pump is very portable with multipurpose uses. It can fight fires in slums, set car wash machines and generating electricity through small turbines.
Pros and cons of motorcycle irrigation water pumps
The major advantage of this type of water irrigation pump compared to petrol and diesel are as follows
Allows you to Pump or spray when the motorcycle is idle.
Efficient fuel use since it only needs gas of 0.2-0.4L per hour
High water yield or flow rate of above 22- 40 m3 in one hour.
It's made of a material that is convenient, durable and corrosion free
The major con of the motorcycle water pumps is the low demand for irrigation in the country. Many farmers perceive it as more expensive and they lack awareness about the benefits of irrigation technology like improved yields for small farms.
Read Next: Best Irrigation water pumps in Kenya
Where to buy motorcycle irrigation water pumps in Kenya?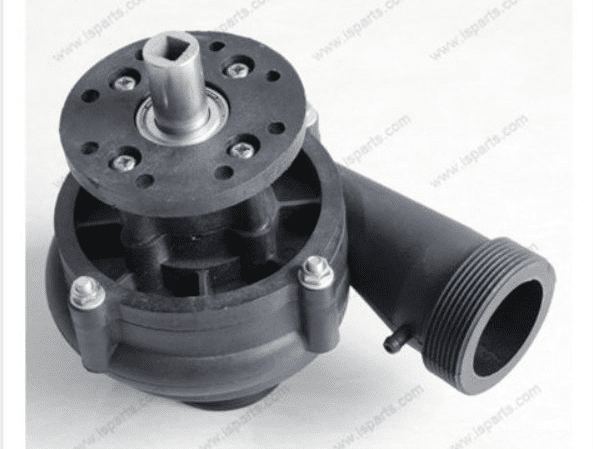 You can buy a quality motorbike irrigation water pump from Jumia online shop. They will make a free delivery to your address or agreed pick up location. The available model is water pump for CF moto CF500 CF188 Engine 600 625 500 ATV UTV. The motorcycle water pump price in Kenya is Ksh 10932 in Jumia online shop.
Its made of aluminum alloy. Its of light weight weighing only 1.04 kg. It measures 25.88×21.63=9.33 cm
conclusion
Don't let your idle motorbike, tuk tuk or or micro cultivator lay idle. Invest in a motorbike-powered water pump today and start seeing the benefits for yourself. With their versatility, cost-effectiveness, and ease of use, they are the perfect solution for small to medium-sized farms and a great way to make use of an idle asset.