Is potato farming profitable in Kenya? In this analysis, we will look at the revenues, costs and profits you can get for farming Shangi potato seeds variety for the markets. This gross margin analysis (GMA) uses the cost and benefit analysis to estimate your farm profits. The article concludes with tips to deal with the challenges of potato farming in Kenya.
Potato is the second most food crop in Kenya after maize. Small and large farmers like growing it for its nutritious tubers that you can sell in the local and export markets. Some farmers specialize in producing and selling certified potato seeds for sale.
Assumptions
To calculate the estimated profits for growing Shangi potatoes in Kenya, the analysis assumes the following.
To estimate the profits, you will deduct the total costs of growing and marketing the crop from gross revenue. The gross revenue is a product of the expected potato yield per acre and selling price per Kilo. Your costs include buying farm inputs like seed, pesticides and fertilizers, labour, leasing land and other costs like sorting.
You can sell your potatoes for an average contract price of KES 25 per Kg. You will therefore make Ksh 1250 for a 50kg bag throughout the harvesting period.
This analysis is for the Shangi potato variety. Other high yielding potato varieties in Kenya include Dutch Robin, Asante, Sherekea, Nyayo etc.
The analysis assumes growing potatoes under open-field cultivation. There are zero costs for irrigation or greenhouse equipment.
Where to grow potatoes in Kenya.
The main potato growing counties include Nakuru, Nyandarua, Kiambu and Meru counties. Bomet, Narok and Bungoma counties have prioritized the potato farming as a key food chain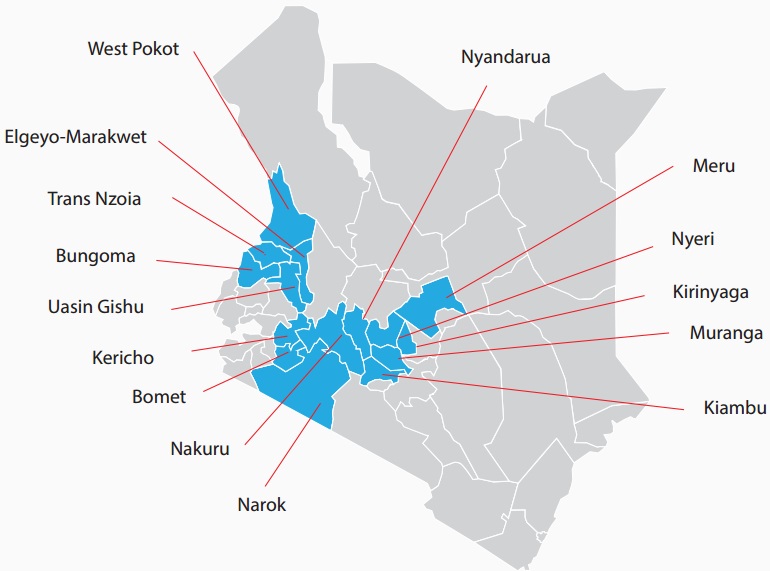 Shangi potato farming Revenues
Are you wondering how much money you will make from growing the Shangi potato in one acre or 5 acres of land? The gross revenue is product of the expected potato yield per acre and selling price per Kilo.
Expected yields.
The expected change potato yield per acre is 30,000-40,000kg per acre. However, this analysis will use a conservative 25% production efficiency or 10 tons (10,000 kg). An acre of Irish potatoes in Kenya can produce 200 bags of 50 Kg each.
Gross income
If you grow shangi potato you can make KES 250,000 in one acre in one season. It assumes you will harvest 10,000 tons of potatoes and sell all products with zero post-harvest food losses at Ksh 25 per kg.
Shangi potato farming Costs
Looking at how to grow big and more shangi potatoes this season? This section will give you the steps of how to plant and take care of potato. The steps assume the activities of a potato planting calendar: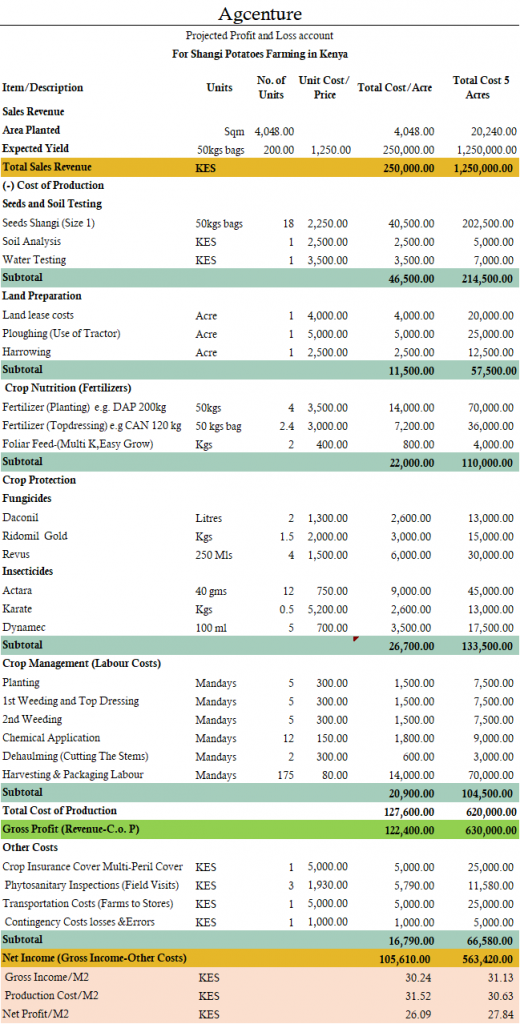 Land preparation
Planting
Crop nutrition (fertilizers)
Weeding & ridging
Crop protection (pests and disease control)
Harvesting
Marketing
where possible, we give you the expenses you expect in each step.
Land Preparation costs
Inland preparation, you will lease planting land, plough and harrow it. Other land preparation activities are sourcing for planting seed, soil testing and water testing.
Land Preparation
The Shangi potato variety does well in an altitude range of 1500-2800 meters above sea level. The cost of leasing land in such an area is around KES 4,000 per acre for a year.
Potatoes do well in well-drained soils. You will need to place tubers at a depth of 10 cm. To prepare your farm, you will need to plough it first, then harrow it before you can make planting ridges. Ploughing and harrowing an acre of land goes for around KES 5000 and KES 2,500 per acre using a tractor.
Best Potato seeds in Kenya
Certified potato seeds in Kenya produce higher yields than informal local varieties. Source for them at the onset of rains or the planting season. The recommended seed rate per acre is 900 kg of the small-sized potato seeds. The size 1 seeds are 28-45 mm in diameter.
A 50 kg of potato planting seeds go for KES 2500. You can buy the best shangi planting potato seeds from the Kisima Farm in Meru, Agrico EA PSA if your farm is around Nakuru or the ADC farm in Molo.
soil & water testing
Shangi potatoes does well in an area with ample rainfall of 850-1200 mm of rainfall. Where you need to supplement water supply, use potable water fit for human consumption for irrigation. To test for water, buy a re-usable water testing kit online at a cost of around KES 3,500.
The best soil conditions to grow shangi potato is one that is well-drained with a pH range of 5.5 to 7.5. You can test your soil pH at home using a re-usable soil testing kit. Besides, you can contract an agro vet shop or KARLO to collect a sample and give you test results at a cost of KES 2,500.
Planting
Plant potato seeds before onset of long or the short rainfall season.
The shangi potato spacing is 20-30 cm by 60-90 cm depending on soil and rainfall in your area. You will need 14,800-33,333 tubers per acre.
Place the tubers at a depth of 10 cm with the sprouts (eyes) facing upwards. Cover with a layer of soil. At this period, apply well rotten manure or planting fertilizer to grow healthy potato crops.
Best Fertilizers for potatoes
Looking for the best planting and topdressing fertilizers for potatoes are those rich in phospate and potassium nutrients. The type and volume of fertilizers you will use will depend on the soil testing results.
The recommended application rate is 200 kg of DAP planting fertilizer per acre (1 kg for 25 m furrow). If your soil test results show your farm in acidic, then apply 80kg/acre of the DSP or TSP planting fertilizer.
You will then apply 120Kg/acre of the CAN top-dressing fertilizer before the flowering stage. The total cost you will incur to apply fertilizers for irish potatoes in an acre is KES 22,000. This assumes you will supplement the above fertilizers with 2 kg of foliar feed fertilizer at KES 400 per kg.
Weeding and ridging
Potatoes require deep and well aerated soils to grow big tubers. You are to weed the farm and make well build hills to ridges. Well buried tubers will not turn green and it safe from attach from potato tuber moths.
To earth up your shangi potatoes, it is recommended you do it 2-4 times. The first one is done while weeding them the potato stems are 15-20 cm. The rest is done after every two weeks before your potato can bloom. You should not ridge your potato furrows when the soil is wet as it will compact the soil limiting your tubers to grow big.
Crop protection
To get high potato yields as used in this analysis, you need to protect your shangi potato crop from major potato pests and diseases in Kenya. The worst ones are listed in the table below;
Potato pests
potato Diseases
Potato Tuber Moth
Aphids.
Potato Cyst Nematode
Spider Mites
Millipedes
Mealybugs
Cutworms
Late Blight
Early Blight
Bacterial Wilt
Bacterial Soft Rot
Potato Leaf Roll Virus (PLRV)
Common scab
A table of common pests and diseases affecting potatoes in Kenya.
You can control the above using Integrated pest management (IPM) or safe methods to control diseases and pests. IPM is cheaper than conventional pest control. Besides, it will give you high-quality potatoes free of harmful pesticide residues.
The analysis assumes if you follow these pest and disease control methods in this potato farming in Kenya PDF will cost you around KES 27,500 to buy fungicides, insecticides and chemical application or spraying.
Harvesting & post-harvest care
Irish potatoes mature for harvest in 3.5 months after planting. Harvesting costs can be categorized into dehaulming, harvesting and sorting.
Dehaulming: cut the vegetative material two weeks before harvesting. It will harden the skin of tubers to reduce the damage of potato tubers during harvesting & post-harvest handling.
Harvest: After digging out the tubers, clean them and dry them. Ensure you sort them to store the ones free of wounds, insects, pests or diseases.
Sort: Remove tubers that are diseased or injured (cut) tubers to reduce your storage losses and rotting. Remove them before you can grade them for sale.
Grading: The KEPHIS 2016 potato production and certification guidelines recommend you grade potatoes using shape and size.
Potato Ware: beyond 60 mm gauge
Potato Seed: 28 – 60 mm gauge
Potato Chatts: Less than 28 mm gauge
Storage: Store your potatoes fit for sale and cook in a dark store to prevent greening. The room should be cool and well ventilated. Besides, you can leave potato tubers in the soil for 1 – 2 months after cutting stems.
The costs of dehaulming, harvesting, sorting, grading and packaging can cost you around KES 15,00o as shown in the figure above.
Marketing: The potatoes in Kenya are marketed using 50 kg bags. To buy selling bags and transporting potatoes can cost you to KES 5,000.
Shangi potato profits
This section will analyse the gross profits, net profits and simple gross margin analysis to get the gross and net profit/m2.
Gross profit
Potato farming in Kenya is very profitable. According to this analysis You will make a gross profit of KES 122,400 from one acre. It is after deducting KES 127,600 of total costs of growing the crop from total revenues of KES 250,000.
Net profits
You will make a net profit of KES 105,610 for planting shangi potatoes in one acre. It is after deducting additional or other total costs of KES 16790. These are for crop insurance, field visits, transport costs and other contingency costs and errors.
Gross margin profits
The gross margin looks at the cost and profits you make in a unit metre square. You will divide the total costs and profits with the area of an acre or 4048 m2.
According to the result analysis, you will make a gross income of KES 30.24 /m2 for growing potato in Kenya. Your net profit will be KES 26.09/m2. Interestingly, the Gross income/m2 for 5 acres is 31.13 and 27.84 for net profit/m2.
Read Next : Which are the best potato varieties in Kenya?
It is more profitable to farm potatoes in large scale than a small piece of land. It is because you will enjoy benefits of large-scale farming.