A compact tractor is the most important machine to automate operations on your farm, factory or a ranch. They can carry loads, push and pull larger items in the farm than humans and other smaller machines like wheelbarrows or electric handcarts. If you operate a small piece of farm or want your farm to stay free of tracks and soil compaction, a sub-compact tractor would be your best choice. In this post, learn how to choose the best small tractor for a small farm. Whether you are looking for a new one or a used secondhand tractor for sale, this guide will help you to choose the best one.
Which is the best sub-compact tractor to buy?
Sub-Compact tractors are smaller in size, cheaper and lighter than the large or compact tractors. They have either 2–3-cylinder diesel engines with a horsepower of 15-25. They are available from all leading tractor producing companies in the US like the Massey Ferguson, John Deere, Kioti, Kubota Tractor Corporation, New Holland and Yanmar. In this post, we will give you 5 of the best and cheapest. They are the; –
Massey Ferguson Gc1723EB
New Holland Workmaster 25s
Mahindra eMax 20S HST
Kubota BX1880
John Deere 1025R
Related: Best agribusiness ideas for more farm machines in Kenya
We analyze each of them in terms of price. Horsepower, price and other parameters you are needed to look into before you buy.
Massey Ferguson Gc1723EB
The Massey Ferguson Gc1723EB is a 22.5 horsepower (hP) diesel engine mini tractor. It has high speed of 2,600 rotations per minute (RPM). It comes with a backhoe package that can lift 661-870 pounds in capacity. Its power take off is 18.3.
The brand is known for low vibration and noise for it comes with low rated rpm engine. Besides, it has efficient use of fuel. It is one of the most ergonomic cabin designs allowing an operator to move and work with ease.
New Holland Workmaster 25s
The New Holland Work master prides 24.7 hP in its three-cylinder engine. It has a rating speed of 3,000 Rpm with a power take off of 17.4 Kw.
Its compact size makes it easy to operate and maneuver around obstacles and in confined spaces. The tractor comes with an Open-air ROPS platform. It is marketed as reliable, powerful and easy to operate given its features.
Mahindra eMax 20S HST
The Mahindra eMax 20S HST is an affordable model with a new one being sold at $10,969. Its four-stroke engine with three cylinders has a 19.4 hp. Its power take off is 14.3. It can carry 1,499 pounds. The Mahindra model boasts a lower operating RPMs and better fuel efficiency compared to other subcompact tractors. In terms of safety, the tractor comes with extra cushioning and integrated armrests.
Kubota BX1880
The Kubota Bx1880 series has a three-cylinder diesel engine which can attain a gross horsepower of 16.6 with a 13.7 power takeoff. The model is a four wheel drive with a flat operating stating. One advantage of buying Kubota tractors is their wide range of available or easy attachments. It has a lift load capacity of 680 pounds on its 24 inch behind pins.
John Deere 1025R
The John Deere 1025R tractor is among the fastest subcompact contractors available for sale. It can achieve 3,200 Rpm on its 18 hp 3-cylinder engine. It has one of the least compact rates and it's known for fuel efficiency consumption.
How to buy a small tractor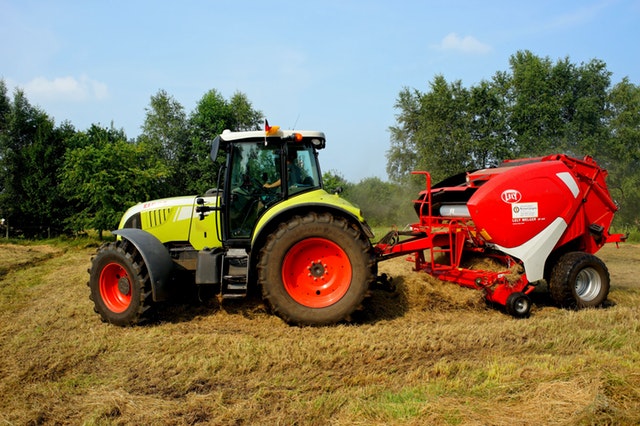 Buying a tractor is a long-term investment. A well maintained one can lay you for 20-30 years. Since it's a big decision. Consider the following 7 factors before you can invest your money in a new or used tractor. They are brand, power, traction, price, fuel efficiency, comfort and finally safety. These are briefly explained as follows.
Safety: The U.S. Department of Labor (USDL) reports that 44% of farm accidents are due to tractor rollovers—the most common type of tractor accident. To avoid accidents in your farm, buy a sub-compact tractor that is fitted with Roll-over protective structures (ROPS). Besides, ensure it has safety seatbelts where operators can fasten to reduce unnecessary risks of accidents and death.
Brand: There are many tractor manufacturers and supplying companies. Buy from one that has specialized in your region. For instance, in America you can buy from Massey Ferguson, John Deere, Kioti, Kubota Tractor Corporation, New Holland and Yanmar. In Asian countries like Japan, India or China you can buy from Toyota, Mahindra or Sonalika. A regional company will make custom made to your regional needs and features. It will also have tractor parts, accessories and tires readily available among local dealers.
Power: You need a powerful tractor to push, pull, lift and carry loads in your farm or factory. The tractor has to be fast enough for efficient operations. To get the right one, look into the machine's Horsepower (hp) and speed (RPM), The higher the better for the two metrics.
Traction: Buy a four-wheel drive drive to offer more traction. It will help in pulling large amounts of load. Considering you will attach different tractor attachments like loader, backhoe and a trailer. Besides, four-wheeled tractors are more powerful than a two wheeled one.
Price: New tractors for sale are expensive than the second-hand used ones. If you are on a budget, go for the old ones. Fortunately, if you are buying one for agriculture use, you can access cheaper loans and grant financing to afford one.
Fuel efficiency: While the buying cost may be cheaper, the cost of fuel, repair and maintenance can be costly for you. New tractors are more efficient compared to old and used ones. If you consider buying an old one, look for one that is around 7-15 years old.
Comfort: Buy a smaller tractor with an enclosed cabin to protect you against sun, wind, rain and snow. Tractors with cabs have a higher resale value and offer better comfort for drivers or operators. However, you will buy an enclosed tractor at a higher price than a normal tractor.
Looking for more information about farm tractors? The Field Guide to Classic Farm Tractors, Expanded Edition: More Than 400 Models from 1900 to 1990 is a nice beginners book.