Are you a herder or rancher looking to increase your cattle farm profits? You can double your earnings through finishing and fattening of beef cattle or feedlot beef farming.
Kenya faces an acute shortage of beef meat each year according to a 2019 study. It is supplied by imports of live cows from Tanzania, Uganda, South Sudan and Somalia. Finishing and fattening can make you sustainable profits by tapping into this demand. In this post, learn all you need to know about this modern beef farming method. You will learn about
What is beef cattle fattening and Finishing?
Predominantly, beef farming in Kenya is grass fed on communal lands and private ranches. Modern challenges like climate change and rising cost of commercial feed require modern solutions of raising and selling cows. They include raising premium beef cattle like the Wagyu cows in a small farm or cattle finishing and fattening in a feedlot as well as value addition of beef products.
Read Next; How Profitable is Beef farming in Kenya
Finishing involves intensive feeding of 2-3 years old beef cows using a protein balanced, high energy diet for 90 days under confinement. The aim of fattening is to increase the live weight and improve the quality of beef. As a farmer you will get better meat grades at the abattoir and therefore a premium corresponding selling price and profit.
Beef fattening is for 4 years old plus cattle. They are confined in like zero grazing units and fed on protein rich and high energy cow feed. The minimal activities help animals to fatten quicker and can yield more meat.
Why feedlot beef farming?
What are benefits of finishing and fattening? As outlined, these sustainable meat farming methods yield more meat and profits for cattle farmers. It makes it one of the best agribusiness opportunities if you are looking for employment and income generation. Finally, beef cattle finishing, and fattening will help you to produce quality meat that market wants. These include the organic, wagyu beef and grain fed meat carcasses.
On the downside, finishing and fattening has following disadvantages.
Need to purchase or lease additional land for forage finishing.
Expensive to produce or make your own cow feed if you consider intensive grain-fattening.
It is costly to provide veterinary care for finishing cattle.
Finishing and fattening require additional labour compared to free range cattle herding.
How to start a feedlot beef farm in Kenya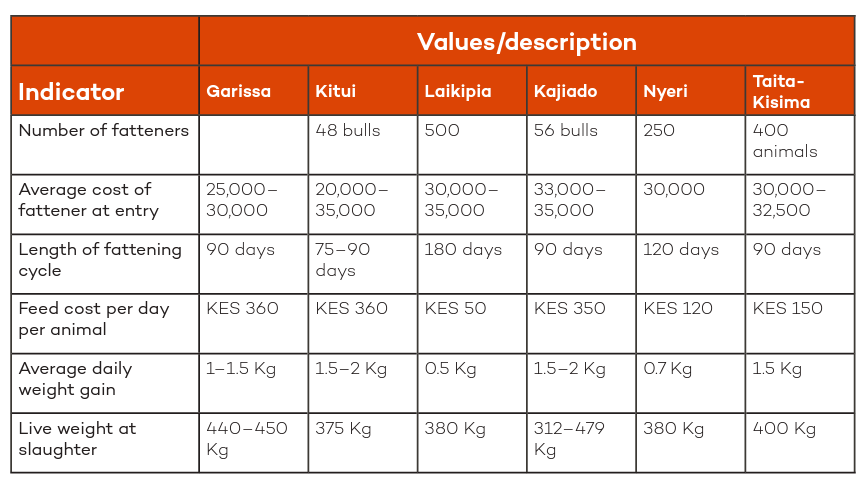 Unlike other livestock farming methods, its easier to venture in this agribusiness opportunity. The easiest method is to set a mini ranch where cattle graze on natural pastures. You can supply supplementary cow feed like hay during dry periods. Start by Conducting a small research on Kenya's beef market. The key decisions that you need to make are as follows;
Location to set your feedlot/mini beef ranch
Decide on best cow breeds
Plan on the ideal fattening period
Food supply and prices
Estimate the expected farming profits
Best counties for feedlot beef farming in Kenya
Beef finishing and fattening operations are spread all over the country in different agro-ecological zones. Many feedlots are set up based on 2 main factors.
Access to grazing resources
Closer proximity to the terminal markets of Nairobi and Mombasa
Many of these areas are in the following areas
Agroecological Zones IV and V of the arid and semi-arid areas (ASALs) of Laikipia, Kajiado, Garissa, Kitui, Taita Taveta, and Kwale counties etc.
Dry highland areas of Nyeri and Naivasha.
Best Cow breeds for feedlot beef farming
The most profitable cattle for meat farming are the Boran, Simmental and Wagyu cross breeds. Others are the Aberdeen angus and other traditional breeds. You can source the steers from your own herd or buy from a high-quality rancher or breeder. If you decide to start by buying, look for genetic breeds that are free of diseases.
Besides cattle, you can add other high value livestock like Dorper sheep and goats.
Access to quality cow feed
Cow feed prices are among the highest management cost in this business. Apart from feeding them natural grasses, you can prepare on farm feeds using cottonseed cake was the most common source of protein, which was mixed with wheat, barley, Lucerne, Boma Rhodes grass, maize bran, hay, and molasses. Commercial feed like the Cattle Fattener is the common feed for ranchers.
Ideal fattening period
The period the animals spend on the feedlot is determined by various factors. Cows fetch the highest sales revenue or profits when they can weigh 500-600kgs. For goats, the optimal weight is 60 kg whereas for lambs is 45 kg.
To determine the fattening period, get the difference between entry live weight when fatteners are bought from the expected weight at slaughter . Divide this by the average daily gain weight when animals are fed intensively.
The period ranges from 15 – 24 months for younger cows. The one for older animals (emaciated animals) ranges from 60 – 120 days depending on the condition to the animal. The table below has fattening cycle for various counites in Kenya.
How profitable is feedlot beef farming in Kenya?

The profits margins for your finishing and fattening ranching business will depend on your method of farming. The intensive finishing has the most profits followed by the extensive method. Extensive fattening method has the most profits followed by the semi intensive.
To get more profits consider following factors
Adopt the system that will achieve a higher weight gain per day
Keep the costs of feeds at a reasonable level by investing in the production of fodder and grains or do your own formulation.
Have a complementary farming or other activity that produce the raw materials for feeds.
Attract a premium price in the market when you market your meat as as grass-fed (organic).