Are you looking for a sustainable agribusiness venture in Kenya? Kenya has a deficit of over 300 MT of beef translating to over 1.5 million heads of cattle. The unmet demand is imported both formally and informally from the neighboring states. Beef farming or raising cattle for meat domestically is a profitable venture for you. In this blog post, Agcenture is going to show you how much money you can make by raising beef cattle for meat in Kenya.
Post Table of Contents
Key Facts about Beef market in Kenya
Beef is the most common consumed meat type in Kenya. Some of the selected facts about beef market in Kenya are summarized below. It covers the demand, price and supply dynamics.
---
Kenya beef production is predominantly grass fed and produced by pastoralists
Kenya slaughters an average of 2.5 million cattle and calves each year.
Kenya has a deficit of over 300 MT of beef translating to over 1.5 million heads of cattle.
500 MT tons or 68% of all meat consumed Per year in Kenya is beef
Kenya's per capita consumption of beef meat was 10.6 kg per person in the last 5 years.
The average retail consumers price of beef was Ksh 422 per kg between 2016-20.
The average farmgate price that beef farmers made was Ksh 393 per Kg between 2016-20.
Domestic meat market absorbs over 99% of beef produced in Kenya.
Most of cattle are consumed in Nairobi and Mombasa Cities. Other notable terminal markets are Kisumu, Nakuru and Eldoret
Have you read? How profitable is feedlot beef farming in Kenya
Best Beef Cattle Breeds in Kenya
Are you looking for the best beef cattle breeds to rear in Kenya? Majority, 82 % of cattle raised in Kenya are the indigenous breeds. They are common in the ASAL areas and raised for meat. The East African Zebus and the Boran cows are the most preferred among pastoralists.
The agro-pastoralists rear the cross breeds genotypes like the Simmental and Sahiwal cows. Commercial farmers in ranching and dairy farming prefer the pure exotic beef or dairy cattle as shown in the table below.
| | | | |
| --- | --- | --- | --- |
| Production System | Main Breeds | Products | Examples |
| Nomadic Pastoralism | Indigenous cattle | Beef | East African Zebu, Boran |
| Agro-pastoralism | Cross Breeds | Beef & Milk | Simmental, Boran, Sahiwal |
| Ranching | Exotic Beef Cattle | Beef | Charolais, Hereford |
| Dairy Farms | Exotic Dairy cattle | Milk | Guernsey, Jersey, Ayrshire, Friesian |
Best cattle for beef farming in Kenya
The exotic cow bereeds have a faster maturity period and higher yields. In contrast, they are more susceptible to pests and diseases. Indigenous types have a longer maturity period and can withstand local conditions like weather and local pests and diseases. However, their yields and income are relatively lower than the pure exotic cattle. Cross breeds give you the benefits of the two types. You can enjoy higher income from improved yields. You will lower cost of production as cross breeds can withstand pests and diseases.
Which is the Best Beef production system in Kenya
Are you looking for the cheapest beef farming method in Kenya? There are 4 main beef production systems that you can use; the table below shows each system portion on the total supply
| | |
| --- | --- |
| Beef Production System | Portion of Cattle le heads slaughtered |
| Nomadic Pastoralism | 43% |
| Agro pastoralism | 29% |
| Ranching | 4% |
| Feedlots | 0.2% |
| Dairy Cattle Keeping | 15% |
is the nomadic pastoralism. It provides 43% of all cattle slaughtered in Kenya. Agropastoralism (29%), ranching (4%), or use of feedlots (0.2%) are other methods of commercial beef farming. The rest comes from animals in the dairy farming in highland areas. The benefits of each method are as follows.
Nomadic pastoralism
you will herd large numbers of livestock in Arid and semi-arid areas. You will move them from place to place searching for greener pastures and water. This method of beef farming is cheapest since it requires little investment except labor for herders. It is common in Kajiado, Narok and the Northern counties of Kenya like Wajir, Isiolo and Marsabit. As a pastoralist, consider rearing indigenous cows like the Zebu and Boran to reduce your losses.
Ranching
You will need to set up a ranch in semi-arid areas like Laikipia and Tana River or Taita Taveta Counties. To get more profits, put up additional investments in farm infrastructure like cattle dips, water points. Some ranches like Kakuzi and Morendat have set up their abattoirs to slaughter their livestock and add their value to make more profits.
Agropastoralism
it is ideal for small scale crops and livestock farmers in semi-arid areas. You will feed your cattle on crop residues and use their manure to improve soil fertility and crop yields. The best cows for agro-pastoralists are the crossbreeds of zebu and Sahiwal. They are kept for both meat and milk.
Feedlots (finishing and fattening) system
It is the most intensive beef production system. You will get immature cows and put them under zero-grazing units similar for dairy production. Feed them on high energy feeds, concentrates and proper vet care. After spending the right time in finishing and fattening they will get to the right market weights for sale.
Is Beef Farming Profitable in Kenya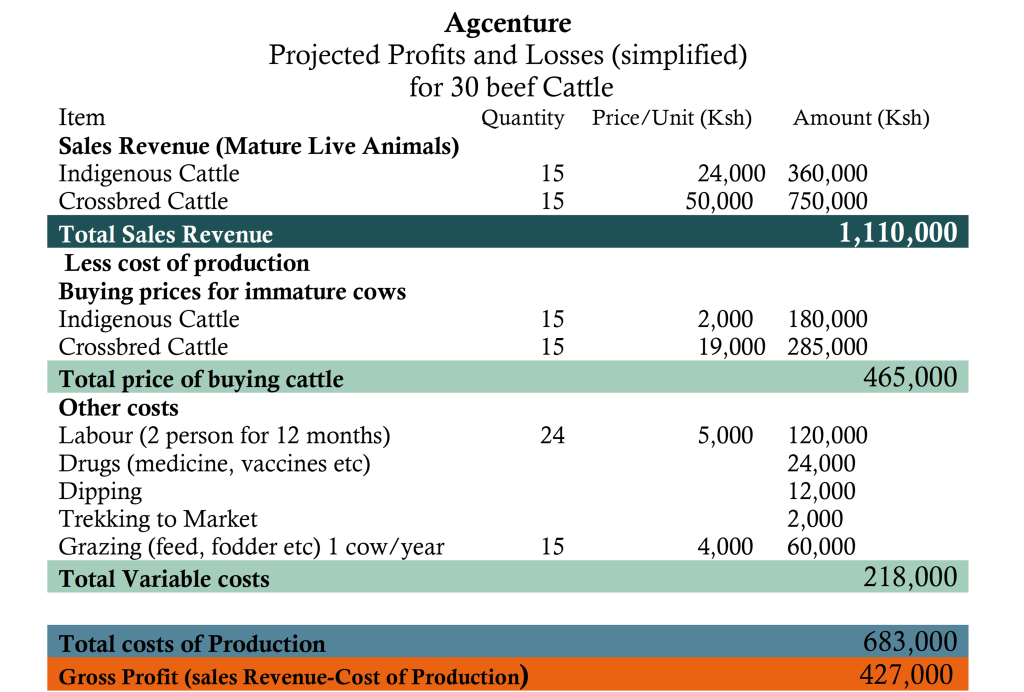 Wondering how profirable is beef farming profitable in Kenya? In this section we help you to estimate the money that you can make by rearing beef cows in Kenya. It will consider the Revenue, Costs and profits you will make by having a small herd of around 20 cows. The economic analysis uses a simple cost and benefits analysis using the following formulae.
Net Revenue (NR) = Total Revenue (TR) – Total cost (TC)
Assumptions for the profit analysis
To estimate these profits, Agcenture has made the following assumptions. Your actual profits will depend on the context and prevailing market prices.
You have a beef farm of 30 beef cattle in your herd consisting of 30 indigenous and 30 cross breed animals to spread your risk.
The buying and selling prices for immature indigenous cows are relatively lower than cross bred cows.
It is possible to sell 50% of your cattle each year (15 indigenous & 15 cross breeds).
An indigenous cow like Zebu or Boran mature in 4-6 years or fattened in 12-84 months to gain a live weight of 150-200 Kg.
The cross breeds mature in 3-4 years or fattened in 12-18 months to gain a live weight of 250-300 kg.
Profits of a 30-beef cattle farm in Kenya
According to this analysis, a 30 cattle beef farming in Kenya can make an income of Ksh 1.1 million each year. It's from sale of 15 crossbred cows at Ksh 0.75 million and 15 indigenous bulls at Ksh 0.36 million
WE assume a take-off of 50% of your herds including 15 indigenous and 15 cross breeds of mature cattle.
You can sell mature indigenous cattle for 18,000-30,000 (average Ksh 24,000). Your mature cross breed is sold for Ksh 35,000-65,000 (average Ksh 50,000)
Costs of rearing 30 beef cattle in Kenya
You will need Ksh 683,000 to rear 20 beef cattle in Kenya. You will incur these costs for various expenses like labor, grazing and buying the cattle to start your farm. In this post we have split them into buying costs for immature cows and other variable costs
Buying prices
You will spend Ksh 465,000 to buy an immature herd of indigenous cows and cross bred or improved cattle. The zebu and Boran young steers or bulls' cost between Ksh 11,000-13,000 (average Ksh 12,000) while the buying prices for a cross bred immature cow is between Ksh 16,000-22,000 (average Ksh 19,000)
Variable costs
You will need around Ksh 218 to rear 30 cows for meat in a year as variable costs. you will spend for animal health and farm management. The key expenses are you to provide drugs like vaccines and medicine, animal feed and fodder or paying to access grazing fields like protected forests. Others go into spraying cattle or dipping them to control ticks which are the major diseases vectors. Besides these costs. You will pay for labor, trekking animals and getting veterinary licenses to move livestock around.
Where to sell your beef cows for highest profits
You can auction your mature animals at the local/county markets in your area. Besides that, you can sign contracts to supply quality cattle to supermarkets. other ranches or a local slaughterhouse.
Successful Beef farming tips
What can a beef farmer do to improve one's profits from beef farming? Your best options are to reduce the cost of production or securing better selling prices. Some of the practical methods you can do this are to.
Rear improved or cross bred cattle since they fetch double the indigenous cows. Besides, they only take half the time to mature.
Consider commercial beef farming methods like ranching or finishing and fattening. This will help in producing more animals of higher quality meat as well as observe biosecurity and good agriculture practices.
Invest in value addition within your beef farm like slaughtering and making of value-added beef products like sausages.
Start homemade animal feed processing and growing of quality animal fodder crops like Lucerne and Brachiaria grass. With time, you can market the excess animal feed to neighboring ranches.