Are you considering pest control as an investment for you? In this blog post, we will give you tips on how to start a fumigation or a pesticide spraying service as a business in Kenya.
As a spraying services provider you will apply farm chemicals such as herbicides and pesticides on behalf of your farmers. You can do it as diversification of your agro dealer or agro-vet shop as a complementary or aftersales service. You can give this to small scale farmers and other agricultural businesses. You will make sure there is right handling of chemicals hence higher farm yields and environmental business.
On the other hand, a fumigation business involves being an exterminator of roaches, rats, mice, termites, snakes and other pesticides from homes, schools, business offices and other premises from time to time.
According to success stories, fumigation business in Kenya can be a profitable enterprise. Besides it's a great opportunity to provide a valuable service in your community. But, how do you start and run a pest control business in Kenya? In this explainer we will give you the required paperwork, equipment, process and required investment.
To start a fumigation business, here are the proposed steps from establishing to running it to profits.
Market Research
The first step in starting a profitable pest control business in Kenya is to conduct a rapid market research. This will inform you on the current market share and trends. It will also help you to identify potential customers and competitors.
This market research will also help you understand the demand for spraying services in your area and determine the best services, prices and products of business. You should also research the different types of farm chemicals that are popular in Kenya, such as pesticides, herbicides, and acaricides.
The market research should also help you in selecting the best business type to start whether a company, cooperative or a sole proprietor.
Develop a business plan
Developing a business plan for your fumigation is the first actual step. This document will help you to clearly define your business goals and objectives, as well as identify any potential challenges you may face.
The details of your spraying services business plan include in details in the services you will offer, your target market, financial projections, and a marketing plan.
Register your Fumigation Business
You will need to obtain all the necessary business licenses and permits required by the Kenyan government. You will have to source these from various regulators and bodies depending on your desired operations before you can start trading. These may include;
A Business name or company certificate.
A business license or permit from the County of operations
Pest Control products board (PCPB) license,
The Kenya Veterinary Board license
The Agrochemicals Association of Kenya (AAK) accreditation license.
Any other applicable permits such as OSHA,
Equip your fumigation business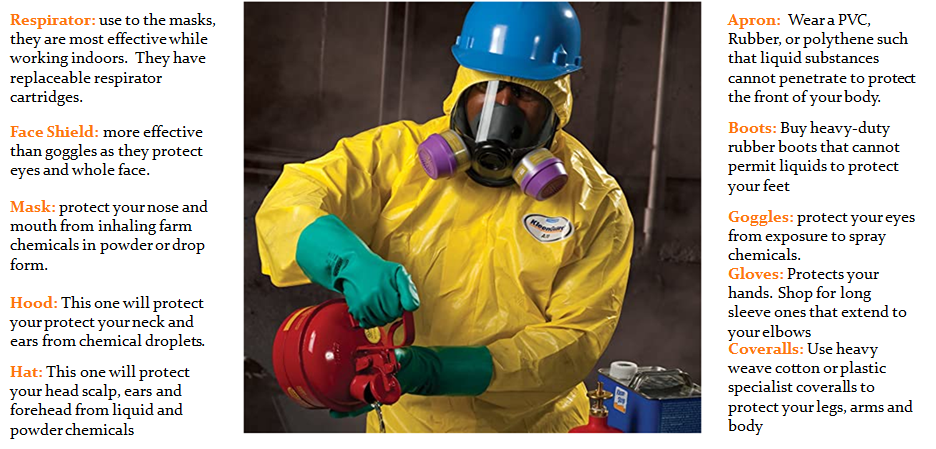 Once you have all licenses and permits for your fumigation business, it's time to purchase the required equipment. These are items that you will need for your daily operations while offering spraying services. These may include;
Sprayer pumps; A spray rig, Knacks pack, handheld or motorised sprayer
Protective gear; Gloves, respirators, googles, aprons and foot wear.
Dusters, Fogging equipment, Foamers, Bait guns
Aerosol Dispensers, nozzles and hose pipes, Spill Kits
Transport; Motorbikes, Vans, trailers or a four wheel truck.
Be sure to invest in high-quality equipment that will be reliable and durable. As a form of business branding, remember to brand them with your logo and other branding materials for marketing and advertising your services.
Hire employees
As your business operations grows, you may need to hire employees and assistants to help you with your spraying services. The success tip is to hire employees who are experienced in the field and have the necessary qualifications to operate the equipment.
Your staff members will include office assistants such as accountants and marketers. Others will be more technical people in pest control business. These may be graduates who have taken quality agriculture courses in Kenya such as Crop protection and Animal Health. These can easily diagnose and recommend the best products and application dosages.
Marketing strategy
Once your business is up and running, it's essential to develop and execute an effective marketing strategy to promote your spraying services. You can consider both the traditional and digital marketing methods.
Traditional methods include advertising in agricultural publications, attending Agriculture shows and trade exhibits, and networking with other businesses in the industry by joining the Agrochemicals Association of Kenya (AAK). Others are using local radio, Tv, flyers and posters
Digital marketing methods help you to gain clients online. They include having a corporate website, social media presence, email marketing for reaching and engaging both the potential and gather feedback and reviews from existing customers.
Build relationships with suppliers
Suppliers include the manufacturers, importers and distributors of pest control chemicals. Your supplier relationships are the key determiner of your pest control business success or failure. Having a good and direct relationship with suppliers will ensure that you have a consistent supply of the products you need to service your clients.
A cordial relationships help you enjoy better credit terms and conditions. You can also have a preferential treatment to restock your inventory on time. Being a responsible player in your network can be a good source of referrals for business in future.
Other success tips
There are already thousands of fumigation and spraying service providers in Kenya. What will make your business more successful? In this section, we give you 5 tips for success tips in running a pest control business in Kenya.
Exceptional customer service: Provide your clients an exceptional customer service is essential for future success of your spraying service business. This includes responding quickly to customer inquiries, addressing any concerns they may have, and going above and beyond to ensure customer satisfaction.
Research: Continuously learn and adopt new techniques and products in modern pest control: The agricultural industry is constantly changing, so it's essential to continuously learn about new techniques and products in pest control such as IPM, use of pheromones, netting and greenhouses. Research will help you stay ahead of the competition and ensure that your services are of the highest quality.
Capacity Building for a strong team: A strong team that is qualified and skilled is crucial for the success of your spraying service business. This includes hiring a qualified team as explained above. Conducting ongoing capacity needs assessment and trainings for them to adopt new business methods
Digital marketing; we live in a digital economy where suppliers, clients and funders are online. Develop and execute a good social media strategy for engaging them on Facebook, twitter spaces etc. and to attract a larger customer service.
Insurance; Insurance is one of the best ways to mitigate business failure. You can insure your equipment and key staff. You will be easily indemnified in case of risks
Conclusion
Starting a spraying service or fumigation business in Kenya can be a great opportunity to provide a valuable service and build a successful and profitable enterprise. By developing a business plan, obtaining the necessary licenses and permits, purchasing equipment, hiring employees, developing a marketing strategy, building relationships with suppliers, offering exceptional customer service, continuously learning about new techniques and products, and building a strong team, you can successfully start and grow your spraying service business in Kenya.
Read Next;

How to make millions in pest control & fumigation business

The best tips for pesticides safe use & handling

What you need to know about integrated pest management (IPM)