Agribyte: Motorcycle powered irrigation water pumps
Motorcycles have transformed many economies in the world. In Kenya, there has been a sales boom of the two-wheeler cycle since 2008. This has brought a significant change in urban and rural transport, youth employment and created many profitable businesses in spare parts, repairs and related services.
These machines have the potential of transforming farming in the region. Apart from providing cheap transport, it can pump water for irrigation.  This can increase crop yields, create jobs and reduce hunger in Africa. This smart innovation from Kenya is efficient and cheaper to buy and use than the traditional diesel and petrol water pumps.
How the motorbike powered irrigation water pump works
Farmlink-Africa introduced this innovation in back in 2011. However, its adoption to date remains low. Besides a bodaboda, you can attach the water pump to a motor tricycle (tuk-tuk) or a micro cultivator.
The water pump is a lightweight design weighing 1.6 kilograms only. Its dimensions are 210 by 180 by 150 mm. It has an intake and output tubes. It uses a spindle to pump water. Mount it on a motorcycle power take over, commonly known as the engine shaft. It's quick to assemble it, taking between 6-15 minutes only.
The spindle can attain a speed of 1500-5000 rotations per minute (RPM) when the motorcycle is in an idle run. This will consume fuel of 0.2 to o.4 litres only per hour. This can pump between 22 m3/hour to 40 m3/hour (22,000-40,000 litres per hour). The pump can attain a continuous operating time of 100 hours.
The fuel consumption and volumes of water pumped depend on the slop. The machine can pump water from a 10 metre deep well and can pump water uphill on a slope of 50 m.
Back in 2012, the motorbike powered irrigation water pump retailed at a cost of Ksh 12,000. It uses a two-inch, 40ft pipe which cost at Ksh 400 per metre.
Read Also: Agribyte: A Mobile Solar-powered milk chiller.
The Opportunities
There is a huge potential for promoting this innovation in Kenya. You can use it to pump water for irrigation and applying fertilizers and farm chemicals. Other areas you can use it are firefighting in inaccessible informal settlements. Youth investors can use it to pump water at construction sites and car washes.
Job Creation; this innovation provides business opportunities for the youth in the region. They can in import, distribute and assemble pumps. Other ideas are in repair and farmer training.  In 2016, over 3.5million two-wheeler vehicles were registered in Africa. Adoption of this innovation, by one per cent of the market, would mean sales of 35,000 units of the pump.
 Food security; There is a huge potential of irrigation in the country. According to a 2016 study on agriculture and irrigation opportunity in Kenya, drip irrigation can increase crop yields by up to 7 times. Around 83% of Kenya's land is semiarid or Arid Land (ASAL) supporting 20% of the rural population. Motorcycle powered irrigation pumps are a cheaper method of small scale infrastructure for low-income farmers.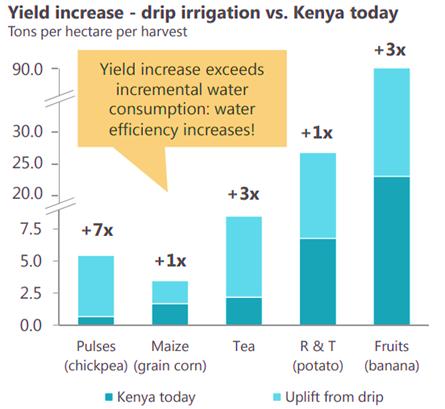 Mechanization; automation in Agriculture is low with only 20% of farm operations using motorised power In Kenya. Motorcycles provide an affordable and efficient mechanization opportunity. Unlike the single-use diesel or petrol irrigation pumps that mostly lay idle when not in use, a two-wheeler is a multipurpose machine with varied uses in the household. It is cheaper to run only using 0.2-0.4 litres of fuel to pump 40,000 litres of water in an hour.  
Pros and cons of motorbike powered irrigation water pumps
Pros
Allows you to Pump or spray when the motorcycle is idle.
Efficient fuel use since it only needs gas of 0.2-0.4L per hour
High water yield or flow rate of above 22- 40 m3 in one hour.
It's made of a material that is convenient, durable and corrosion free
Cons
There is a low demand for irrigation in the country because of its perception as expensive and lack of awareness about the benefits of irrigation technology among smallholder farmers.
Irrigation in Kenya
Kenya has an irrigation potential of 539, 000 hectares of land. Around 19 % (105,000 ha) has been developed to date. There is a huge opportunity to develop irrigation through water harvesting, pumping and irrigation infrastructure in the country. There are many crops large and small-scale farmers can water including vegetables, fruits, pulses, grains, roots and tubers.
Some high-value crops small-scale farmers can farm include tomatoes, cabbages, potatoes, bananas and beans.
Motorbikes in Kenya
Kenya registered over 1.35 million motors in the past decade. According to the Kenya National Bureau of Statistics (KNBS), Kenya imported 181, 565 units of Boda Bodas and tuk-tuks in the first nine months of 2019. In 2018, the imports were 143, 966 for a similar period. The Motorcycle Assemblers Association of Kenya (MAAK) estimate there are around 700,000 commercial motorcycles used as taxis on Kenyan roads.
Most motorcycles cost between Sh. 58, 000 and Sh150, 000. Most financiers have facilitative policies supporting in credit financing.
The high demand, affordability and acceptance of motorcycles in the country provide a basis for introducing and promoting the adoption of the motorcycle powered water pumps. This will provide a cheaper method for farmers with low income to venture in irrigation.