Agribyte: How Mbegu Choice App works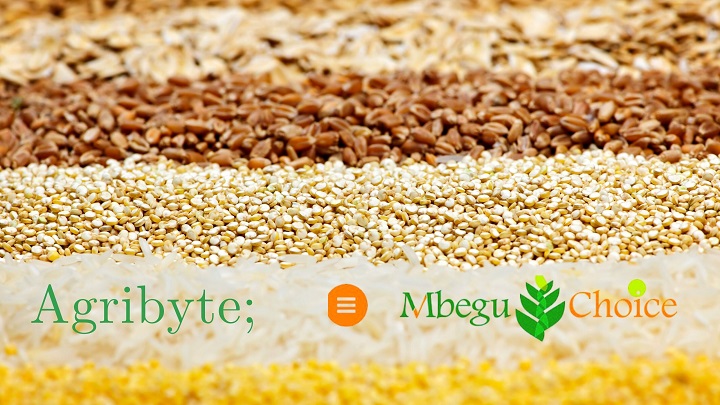 You reap what you sow, your crop yields will depend on the quality of seeds you will plant.  But, how do you know the most suitable seeds for your farm?  Farmers in Kenya and Uganda can choose the best seed variety for their farm location using Mbegu choice, a free seed selection database available as a website and mobile app.
Rural farmers lack access to timely and accurate information about quality farm inputs such as certified seed, fertilizers and farm chemicals. Most of them plant uncertified, fake or recycled seeds and end up with poor yields every season.
Mbegu choice seeks to fill this informational gap for various users. It will help you to generate a list of the approved and suitable seed varieties for your farm.  It is a must tool for farmers, agro-vet shops and agriculture officers.
How the Mbegu choice app works.
Mbegu Choice platform is a seed bank access assistance tool. It is offered in English and Swahili languages. As a user, you start by choosing your language on the website or the mobile application.
The second step involves you typing in your county name. You will then select your ecological zone from a drop-down menu to show the location of your farm. The system currently lists five zones; coastal or dryland, dry land to mid-altitude transitional, mid-altitude, mid-altitude to high land transnational and the highland zone.
You will then select the crop type you are looking for. The current seed database has over 200 seed crop varieties that grow in Kenya. These are 61 varieties of maize seed and 25 seed varieties of the common bean. Others are 11 cassava varieties, 13 Irish potatoes seed varieties, and 12 types of sorghum grown in Kenya. Other seed types on the seed platform are Rice, and finger millet.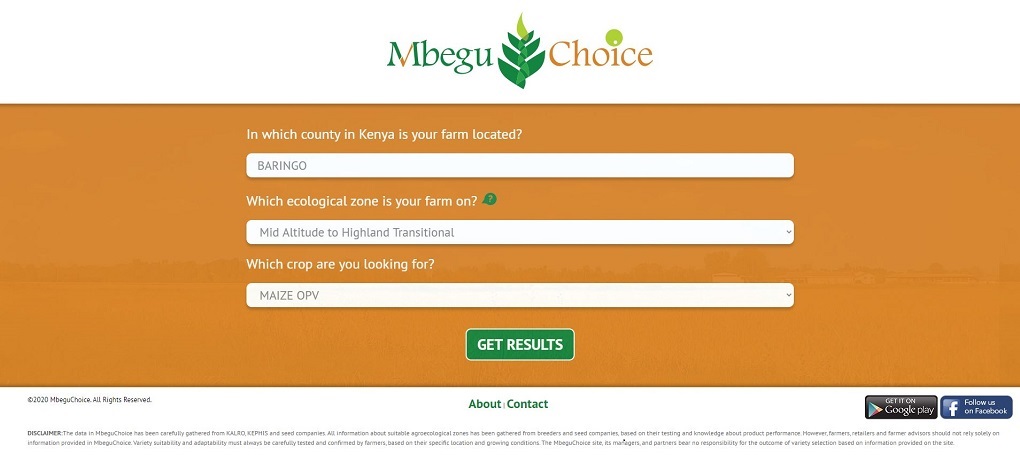 The platform will then display a list of the suitable seed varieties that are suitable for your area. You can further filter the given varieties output using additional criteria of three areas
Crop maturity period; choose among the extra early (fast-maturing), early, medium or late varieties
Crop Features; Select the best seeds that are drought, disease or pest tolerant.
Planting season, you choose a variety preferred for short rains or long rains seasons or one suitable for both.
The user will then download the results on a PDF file.
How to use the mbegu choice Results.
The Mbegu choice gives you detailed information about seeds like the year it was commercialised and the seed company supplying it among other information.
Farmers using the mobile app are likely to improve their yields and income. You can now plant the best seed varieties that are suitable for their region's soil and weather. You will also lower the cost of crop disease and pest control by growing a seed variety that has a certain disease or pest tolerance qualities. Besides, you already know the seed companies which breed the seeds giving you the power to choose the best.
Seed traders and agro-dealers can get higher business profits by using the mbegu choice mobile app. Use it to buy the seeds that are best suited to your region of operation. These will be bought faster giving you more revenue and release cash tied in inventory. You can also use the app to stock the newly-released or improved seeds against climate change, diseases and pests. Since the app gives you which seed companies supply a given variety, it is easy to make contact, making your sourcing efficient and smooth.  
Similarly, extension officers and agri-consultants can have the latest information to advise their farmers. They can guide them on the best-certified seed varieties that are available in their region. Besides, you will know the seed attributes that farmers should seek like maize seed that is resistant to the MNLD disease. In the case of drought or poor rainfall, you will know the fast-growing seeds that farmers can buy
Read Next; How to select good planting seeds for your farm
Mbegu choice was developed by Agri Experience in partnership with the Kenya Agricultural and Livestock Research Organization (KALRO), the Kenya Plant Health Inspectorate Service (KEPHIS) and Kenyan crop seed companies, with support from Kenya Markets Trust. Currently, the invention is championed by the seed traders association of Kenya (STAK)
The database is available on a website and an android mobile application.