Agribusiness Ideas for Improving Mechanization
Mechanization improves farmer and trader profits trough time and cost-savings and improved labour efficiency.
In Kenya, 50% of farmed land is prepared using hand-held tools, 30% use donkeys and oxen while 20% use motorized power. Most smallholder farmers cannot access agricultural machinery for production, harvesting and food processing or preservation. The majority being poor, it is costly to buy, hire or lease modern equipment on their own.
The above presents a huge business potential to promote automation and industrialization of the agricultural sector in the country. These agribusiness ideas are fit for individuals, farmer groups and companies. You can invest in leasing, fabrication, or distribution of these types of equipment and garden machinery.
Leasing and financing equipment
Agricultural machinery and equipment are expensive to buy and maintain. However, a business can solve this challenge by signing lease agreements with farmers to use their machines over a specified period. Farmers can also hire equipment such as a tractors as a service at a fee.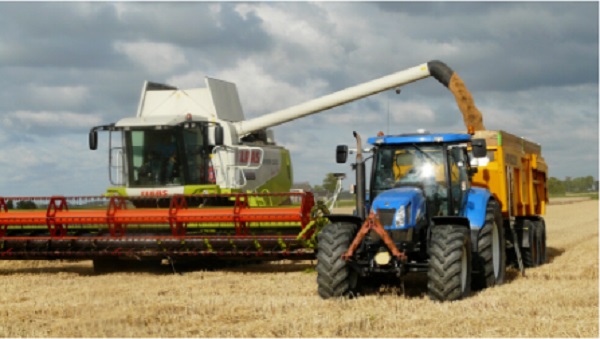 Formal and informal financial institutions, on the other hand, could market customized loans targeting farmers. These loans in the form of asset financing could help in manufacture, trade and maintenance of farm machinery and equipment. The financiers will enjoy interest income and insurance premiums.
Manufacture or Fabricate machinery
There are a few manufacturers, mechanics and technicians of agricultural equipment in Kenya. Most apparatus are imported as parts and assembled locally in car and machinery assembly centres. Assembly operations are in Mombasa, Nakuru, Thika and Nairobi.
Local technicians fabricate a range of affordable equipment. These include chaff cutters, water pumps, maize shelling machines and motorized sprayers. These types of machinery can either rely on fuel, wind or human energy for power. There are newer developments among the juakali artisans who produce affordable small maize shellers which donkeys can pull or ferry on motorbikes.
Manufacture of these pieces of machinery is a sustainable and profitable business. This is due to the growing trend shifting agriculture from a labour reliant industry, becoming a capital intensive venture.
Sales and marketing of modern agricultural machinery
Small-scale producers cannot access relevant information and technologies on mechanization limiting their uptake. Awareness creation on automation of horticultural activities will improve uptake and use for agricultural machinery and apparatus. To ignite this demand, one can inform, persuade and remind prospective and current consumers. You can market and advertise on radios, television, newspapers, showcasing in agricultural shows and through the internet.
Distribute and Install farm machines and equipment
Marketing machinery will create a growing market demand for imported and local fabricated machinery. Entrepreneurs will make sales and offer after-sales services on installation, replacement and maintenance of the machinery. where suppliers and farms have a cordial relationship it will create future avenues while the latter are upgrading their installations. The business will boom further as farmers and food processors will refer their suppliers to peer businesses.
Repair and maintenance
There is limited know-how in operating and maintaining machinery and equipment used in agricultural enterprises. For instance, operating heavy types of machinery such as land excavators and tractors is done by the National Youth Service (NYS) graduates for the longest periods. The same institution produces personnel for repair and maintenance of the machinery as mechanics, technicians and operators. With the expected growth in mechanization, this soft skill sector will be a profitable area.