Are you looking to store your dry foods such as maize, beans, or rice cheaply?
In this post, we give you the best 5 food storage facilities for dry cereals in Kenya. Apart from being cheaper, these solutions eliminate the need for toxic preservatives keeping your food fresh, of high quality, and free of moisture.
You can use these cheap food storage facilities at home or in a business as a trader
In This Post
Why Do I Need to Store Dry Foods?
Farmers and traders in Kenya lose 30 to 50% of their maize, beans, or other dry foods. There are many causes of post-harvest food losses in the country. The key ones are storage pests such as bugs, weevils, grain borers, and rodents.  Others are food spoilage due to exposure to moisture, aflatoxins, or floods.
Related: Do Cereals Business in Kenya Make Money?
As a simple solution, many food handlers invest in gunny bags for storage. They spray their food with toxic chemicals to keep pests away. This is not only expensive but also exposes consumers to poisonous pesticide residuals.
The best Dry Food Storage Facilities
As an alternative to gunny bags and pesticides, you can use airtight and moisture-proof products. The five alternatives available in Kenya are hermetic storage bags, hermetic cocoons, silos, steel canisters, and food storage containers.
Hermetic storage bags

The use of hermetic storage bags is an emerging trend in food waste management. It can preserve dried maize, beans, cowpeas, green grams, sorghum, millet, and other cereals without the use of insecticides. This cheap technology is ideal for farmers and traders in Kenya who produce purchase and store maize for later use in the season.
The bag has two layers for better resistance against moisture, air, and pests. Pack your grains into the innermost air-tight plastic bag. Tie it tight with an unbreakable string or wire to make it air or moisture-proof. The sealed bag can reduce oxygen levels from 21% to 5%. Lack of oxygen can reduce live insects like weevils to less than 1 insect/kg of grain. It also creates unfavorable conditions for pest multiplication.
Pros of using hermetic technology
Store grains for up to 24 months (2 years) while keeping their qualities such as flavor and moisture loss.
The bags are reusable.
Eliminates the need for pesticides or fumigants to treat the stored rice, corn, beans, paddy, milled rice, and other cereal crops. making it fit human consumption.
Cheaper compared to metallic or plastic silos. The price of a 50-100 kg hermetic bag price in Kenya is around Ksh 200.
It increases your farming income as you can sell grains when prices are high during the shortage season.
Seed viability is greatly extended with hermetic storage.
Mini silos
Mini silos are air-tight storage canisters. They are ideal for storing cereals for domestic use. They are made of plastic, wood, glass, or stainless steel. They are available in different capacities like 1500kg, 1200kg, 1000kg, 700kg, 500kg, 350 kg, 250 kg, and 100 kg. You can buy one that suits your needs.
They can keep your cereals safe from leaking roofs, rodent invasion, and torn packaging bags. In this article, we look at steel and plastic ones.
Steel Canisters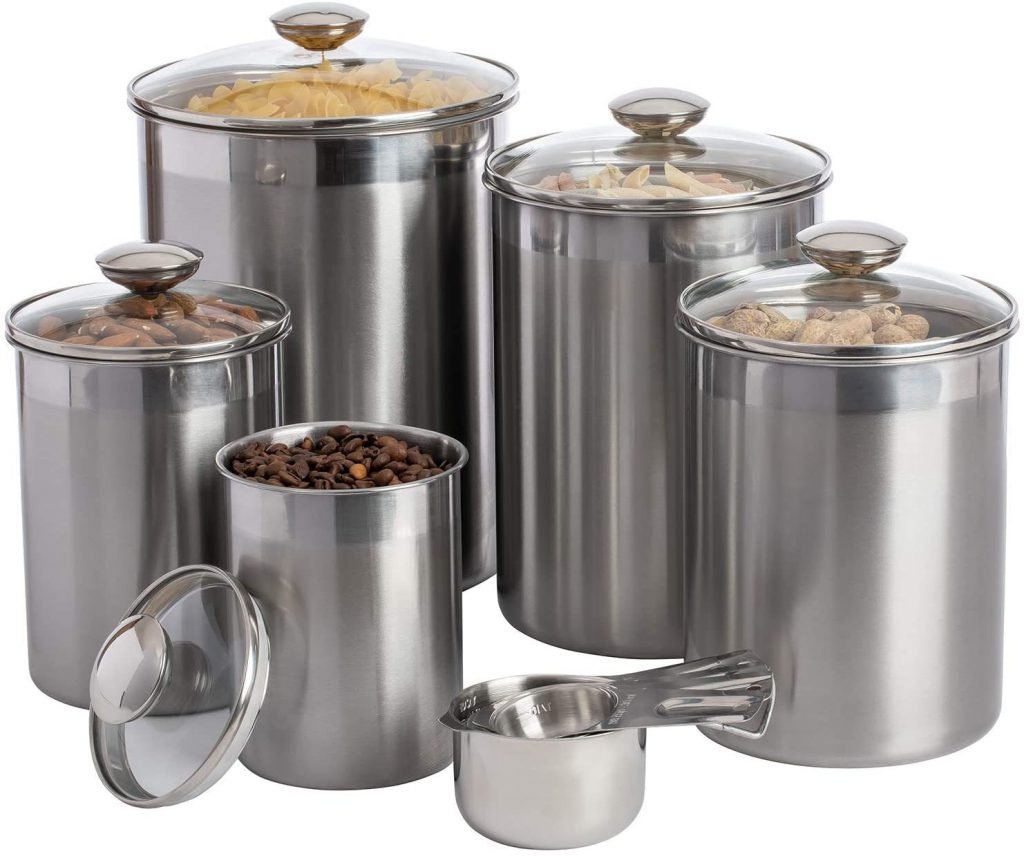 The metallic ones are made of galvanized steel sheet, 0.5 mm thick, and soldered with tin to be purely hermetic. A silo has two openings; on top to fill the grain and an outlet on the side. The silos' openings are closed with a lid which has rubber band seals.
 Always place the silos in a protected area from rain and sun in a granary, storage room, or a room inside the house.
Do not place them directly on the floor but place them on a wooden platform at least 15 cm above the ground level. 
Pros of using metallic mini-silos.
Long lifespan of up to 20 years.
They have variety and are affordable to various people as they come in different capacities
You can store grains for over one (1) year ensuring food availability throughout the year.
Reduces your food losses by up to 15% rate and you can enjoy a stored market gain of around 50%.
It increases your farming income as you can store and sell products when prices are high during the lean season.
Store shelled, clean, and sun-dried grains. Treat the grains with a fumigant before putting it in the silo. You should check the grain condition from time to time.
Food Containers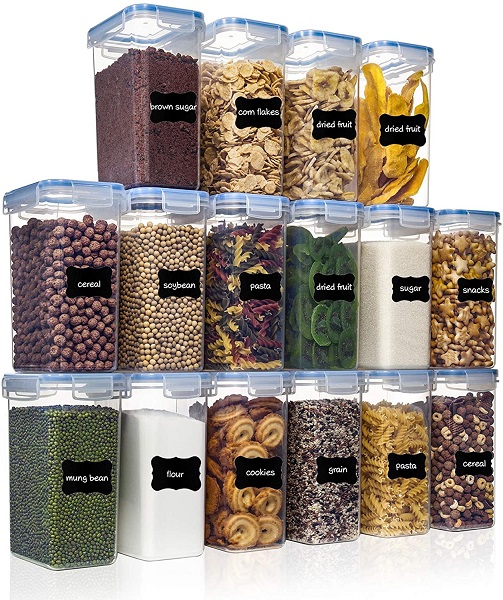 Are appropriate for consumers at home for storing grains (rice, grams, and beans), flour, and other dry food components at home.
They cut down on food loss and wastage by keeping it dry and safe. Plastic containers are available in various shapes, makes, and sizes.
Containers are a great addition to your food storage, deco, and kitchen arrangement.  Some are transparent, allowing you to check your food's condition without opening. You can get them in sets of 3, 4, 6, or 10 containers.
Hermetic Cocoons
These are ideal for bulk grain handlers like maize wholesalers. They can hold 5 to 300 metric tons of produce. You will use them together with gunny bags or the common sacks. The one shown above consists of two plastic halves. They are joined by an air-tight zipper after the cocoon is loaded with sacks of the commodity to be stored.
Cocoons work like hermetic bags by limiting aeration. Besides, they can also keep grains safe from floods if water does not reach the zipper line.
Best Tips for Food Storage
Below are our 3 best tips on dry food storage. It focuses on how to dry your food well, where to buy hermetic bags, and the best online stores to buy quality food containers in Kenya.
How to dry your Maize grains adequately before storage
Before storing grains in moisture-proof storage, ensure you have dried them to the right moisture content of 12 to 14 % for most grains.
Moisture causes cereals and pulses like maize and beans to decay, get decolorized, or be contaminated by deadly poisons like aflatoxin.  It can happen if it was poorly dried before storage or exposed while on the farm, during transit, or during storage.
There are two hygienic methods of drying maize in Kenya.
Solar or Sun-drying for around 3 days. Ensure you dry the grain seeds on top of waterproof canvases.
Use of a commercial dryer (heated air, in-store drying, or grain cooling) either on-farm or offsite.
Do not mix grains maintained at different MCs to avoid seed cracking. To check on the grain's moisture content (MC). Use handheld grain moisture or digital testers to avoid over-drying and decrease your yield weight.
Where to buy hermetic bags in Kenya
You can buy hermetic bags from local shops or import them by ordering online.
The following brands are available for sale in all leading Kenyan towns like Mombasa, Nairobi, Nakuru, and Eldoret.
Purdue Improved Crop Storage (PICS),
Grain Pro
Super Grain
Zero fly
Agro Z
Elite bag
Consumers can get the Kraft Paper Flat Base Hermetic Bag- Zipper Pouches for packing powder like flour and other grains. If you prefer something you can reuse, go for the multifunctional Reusable Silicone Food Storage Bags, they are leakproof, extra thick Hermetic Reusable Bags.
Agcenture does not approve of any brand as superior to others. The efficiency of the bag will depend on you following the supplier's instructions.
Where to buy the best airtight grain containers
You can find airtight food containers for sale in your local stores. If you cannot find a desirable make or size there, look for one in a leading online store like Amazon or eBay.