Are you are a milk farmer, trader or processor looking to reduce your losses from spoilt milk while in storage or transit? You can use this cheap milk coolers from Kenya. The invention combines 3 modern solutions; mobility, value addition and use of clean energy.
The milk coolers are freely powered by the solar energy. They are mobile and you can mount it on a motorbike, donkey drawn cart or a tuk-tuk. It is a cheap solution for you to improve on milk's quality, food safety and traceability, as well as give you better farm or cooperative profits. Besides, a mobile solar cooler can help with aggregation of milk from scattered small scale goat, cattle or camel farmers in remote areas with poor transport.
How the solar milk chiller works
The portable milk cooling tanks allows you to store and transport milk for a maximum of three days without going bad. The portable milk chillers comprise of several parts. They use aluminum tanks as cooling unit to to hold and keep the milk at low temperatures. These are powered by solar energy that is tapped from solar panels. The other components of the system are a milk PH test kit, an automatic weighing scale, and a customized dairy cooperative management information system. It uses the latter one for record-keeping.  
This invention is patented by Savanna Circuit, an innovation and technology company. The Kenya-based company has piloted this idea with a dairy cooperative in West Pokot County.
According to Lemtukei the company's Co-founder; "The system entirely runs on the 15w (100 liters chiller) and 80w (800 liters chiller) panels because of battery pack segmentation."
He adds that "the cooler can keep milk cool at the recommended temperature of four degrees Celsius while on transit to the main cooling plant." According to him, "the cooler attains that (4 degrees) within an hour depending on the ambient heat".
The Savanna circuit produces two types of milk chillers; a mini cooler with a capacity of 100 litres. You can attach this on back of a motorbike (bodaboda). It milk holding body cool milk for up to 28 hours. They mount the larger chillers of 800 litres on a three-wheeler (tuk-tuk) or a donkey cart. These can keep your milk fresh for 72 hours.
The innovators are commercializing the idea. They intended to start full production from January 2020.
The Opportunities
The solar milk coolers innovation promises many benefits for Kenya and other African countries. This can easily lead to sustainable food security and income generation through transformed dairy sectors. This will be realized through food processing and value addition, aggregation, food safety and traceability among other opportunities as explained below.
Milk Bulking & Aggregation; Portable milk coolers can change how dairy goat, camel and cattle farmers collect and deliver milk from a pool of small-scale dairy farmers in remote areas to a central accessible location.
Reduce Food losses; The solar milk coolers will help traders, and farmers to cut huge losses of spoilt milk while on transit.
Food processing & Manufacturing; the milk coolers helps you to get the perishable dairy product while still fresh to dairy processing plants for value addition, preservation and processing.
Commercialization of dairy farming This solution will assist small scale dairy farmers to commercialize operations. Majority are condemned to subsistence production due to costly investments required in storage and transport something the solar coolers solve cheaply. 
Food security; Reduced food losses, food processing and manufacturing will enhance the regions' supply of quality milk as well as creating place utility between remote farmers and a far off consumers thus improving on food security availability and prices.
Food Safety. A dairy cooperative may opt for the dairy management information system ensuring they gather, store and use information on milk sourcing and handling ensuring there is food safety and traceability from farm to fork.
The innovation will help milk players to adhere and comply with set out regulations. Informal milk traders who control over 80% of milk sales to ultimate consumers prefer marketing raw milk using plastic containers to transport milk. This is against the Kenya dairy board's regulation, which calls for use of aluminium tanks. i
In addition , this can be replicated in other fresh produce value chains like vegetables. the chillers cooling vests, units can be repurposed to make smaller body cores for alternative uses.
How much does solar milk coolers cost in Kenya
There are 2 types of portable milk coolers you can buy that are powered by solar; the mini coolers mounted on motor bikes and the mega coolers mounted on tuk-tuks.
The mini coolers come in 2 sizes of 100l and 200 liters capacities. The price of the 100l milk cooler is Ksh 252,000 inclusive of a 150cc motorbike. the 200L is sold at Ksh 333,000 including the motor bike its mounted on.
The mega coolers are sold in 4 varieties, 400L, 500L, 800L and the 1000 L. The prices of those milk coolers in Kenya is shown below.
| Milk Cooler Capacity/size | Milk Cooler Prices |
| --- | --- |
| 100Litres | Ksh. 252,000 |
| 200Litres | Ksh. 333,000 |
| 400Litres | Ksh.720,000 |
| 500Litres | Ksh. 950,000 |
| 800Litres | Ksh. 1,250,000 |
| 1000 Liters | Ksh. 1,650,000 |
Milk Cooler Prices in Kenya (source Savanna Circuit Technologies)
Solar milk chiller Pros and cons
There are many benefits why you should consider investing in a solar milk cooler in your farm or dairy cooperative. these include;
Users of the local milk chillers will enjoy cheaper maintenance costs. Since it relies on solar energy to powers the cooler, its zero -cost in terms of energy/electricity bills.
They use locally available resources to fabricate making it cheaper and affordable to make and buy.
Mobile milk coolers using motorcycles, tricycles and donkey carts are cheaper to use to transport milk than tractors and motor vehicles.
On the downside, the major challenge with using the mobile cooler is their limited capacity. The largest mobile coolers only carry 200 liters for motorbikes and 1000 liters for a tricycle.. This makes them unfavorable for medium and large milk handlers with more milk.  
The dairy sector in Kenya
Kenya is a leading consumer of milk in Sub-Saharan Africa with a per capita consumption of over121 litres per year.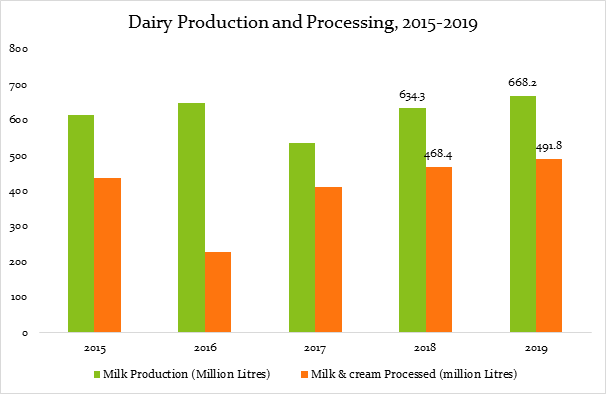 The country's total milk production was 6.6 billion litres of milk in 2019. This was 5.3 per cent increase from 6.3 billion litres recorded in 2018 according to the Economic Survey 2020. It further revealed that quantities of milk and cream processed increased by 5.0 per cent from 468.4 million litres in 2018 to 491.8 million litres in 2019.
The portable solar-powered milk coolers will help in preserving milk quality on transport to milk processors. This will serve as a driver in promoting production and processing of milk in the region.