Are you looking for the latest facts and data on Kenya's agriculture and food industry? Data is the new gold, some say. Its use in business operations is a success factor in public and private institutions.
This analysis highlights the results for crop and animal populations in the country. The results have rich data for you on agriculture and food in the country. It includes livestock populations, most popular crops and land use. It will give you pointers on the future food demand and supply that you can explore as agribusiness opportunities.
Read Also: 2019 census Data; Exploring best Agribusiness Opportunities
The KPHC 2019 census results have insights for all agricultural players. This analysis will focus on three priority areas. Country's agriculture activities. human population and urbanization.
Kenya is an importer of various foods including beef, milk, fish, maize, sugar and horticultural products like onions and tomatoes and fruits. Interestingly, the KPHC 2019 results reveal the following information about Kenya's agriculture sector;
Only less than 10% of Kenya's households practice commercial farming
The main purpose of farming in Kenya is subsistence as reported by a majority of households. According to 5.6 Million households out of 6.3 million households, their purpose of farming is food production. In relation to land use, a total of 8.43 million hectares out of 10.03 million hectares are for Subsistence production. Smallholder farmers' account for over 70 per cent of marketed farm produce. They farm in small land parcels which cannot support mechanization. Over time, these parcels productivity is fast declining.

Pig farming is the least popular livestock in Kenya
Kenya's animal populations include 38.8 million chicken, 47.3 million sheep ad goats and 15.7 million cattle. There are 4.6 million camels, 1.2 million donkeys while rabbits and pigs are 0.5 million and 0.4 million respectively. According to the census results, there are 1.16 million beehives in the country. See the animal populations distribution below.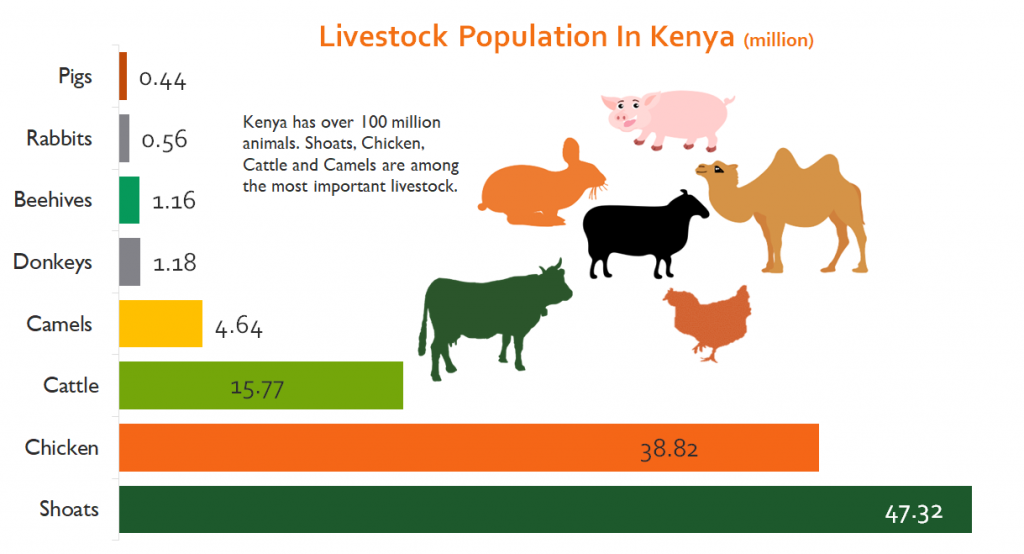 Farmers prefer goats to sheep
Small ruminants dominate the livestock population in Kenya. There are 47.32 million animals across the country. There is a preference for goats to sheep. while the number of goats is 28.01 million, there are 19.31 sheep in the country.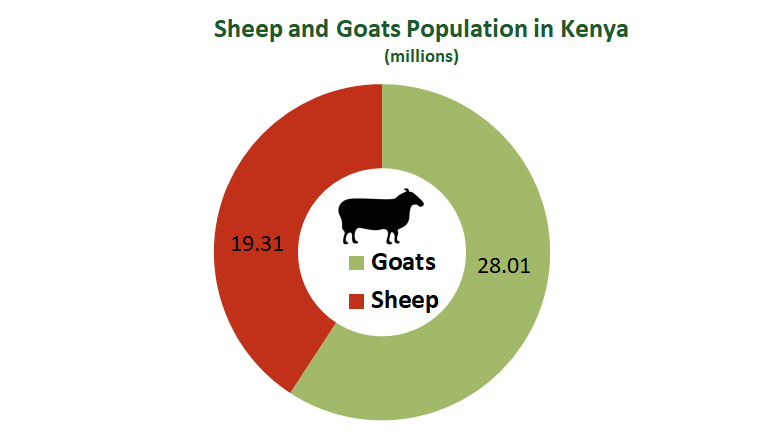 Indigenous chicken is the most populous kept livestock In Kenya
There are 38.82 million in Kenya. the highest number is the indigenous chicken at 30.32 birds. In terms of commercial chicken farming, there are more exotic layers than the exotic broilers.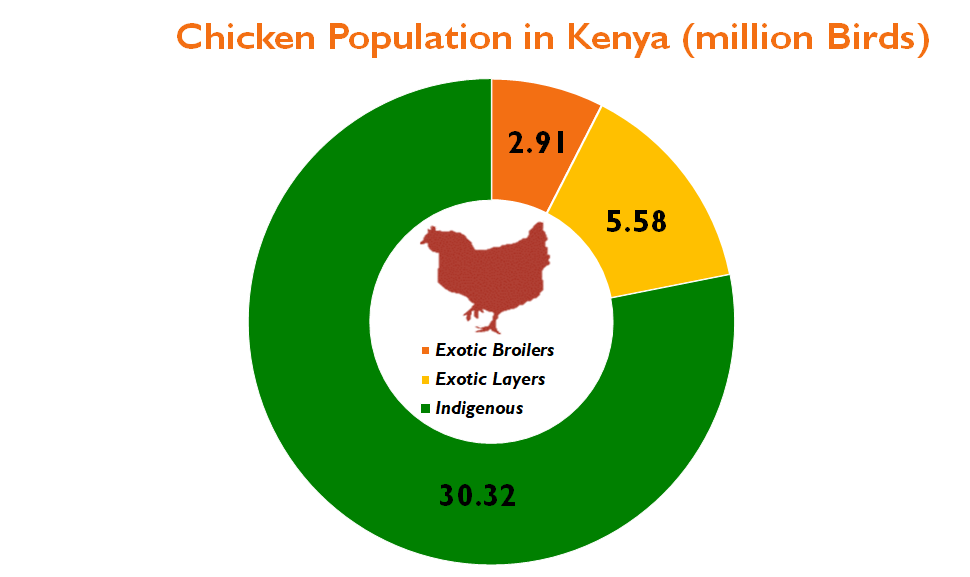 Pastoralists supply over 80% of beef meat in Kenya
Similar to the poultry sector, the population of cattle in Kenya is dominated by indigenous cattle. Most of these 13.01 million cows are owned by pastoral communities in the ASAL regions. Majority of the 2.21 exotic dairy cattle are concentrated in central highland areas. Ranchers concentrate on exotic beef cattle which were 0.56 million during the KPHC survey.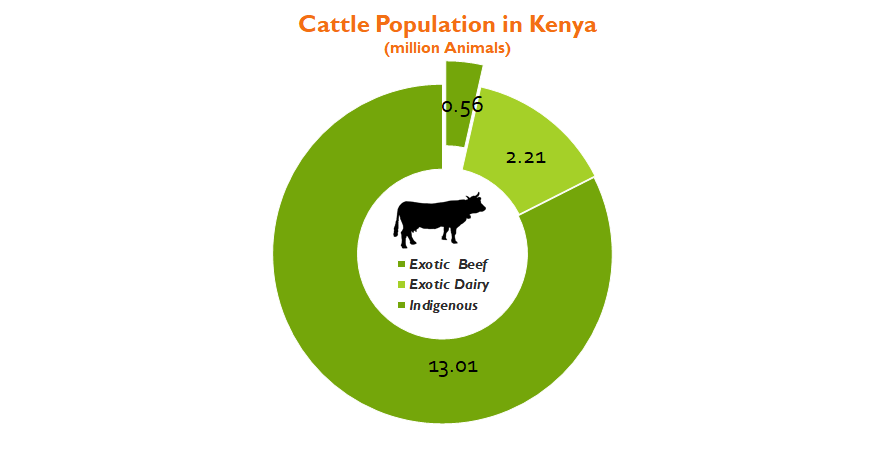 Kenya needs to invest in production and research of orphan crops
The analysis analyzed the number of households growing food crops like maize, beans and bananas. The other area that was analyzed is distribution of farming households engaged in commercial crop farming. These grew permanent cash crops like tea, coffee and miraa. other emerging cash crops that were in the report are the fruit trees like avocado, mango and macadamia.
Maize and beans are the favourite food crops in Kenya. Out of 5.6 million households that report practising crop farming, 91 per cent grow maize. 64 per cent of the households grow beans. Other popular food crops grown by most farming households are bananas, kales, cassava and sweet potatoes. The crops with the least farmers in Kenya are rice and wheat.
This information proves there is a need for investment in research and promotion towards the adoption of alternative and orphan crops such as pulses, sorghum, millet, cowpeas and green grams in vast semi-arid regions. This will be a measure of diversifying our national food basket.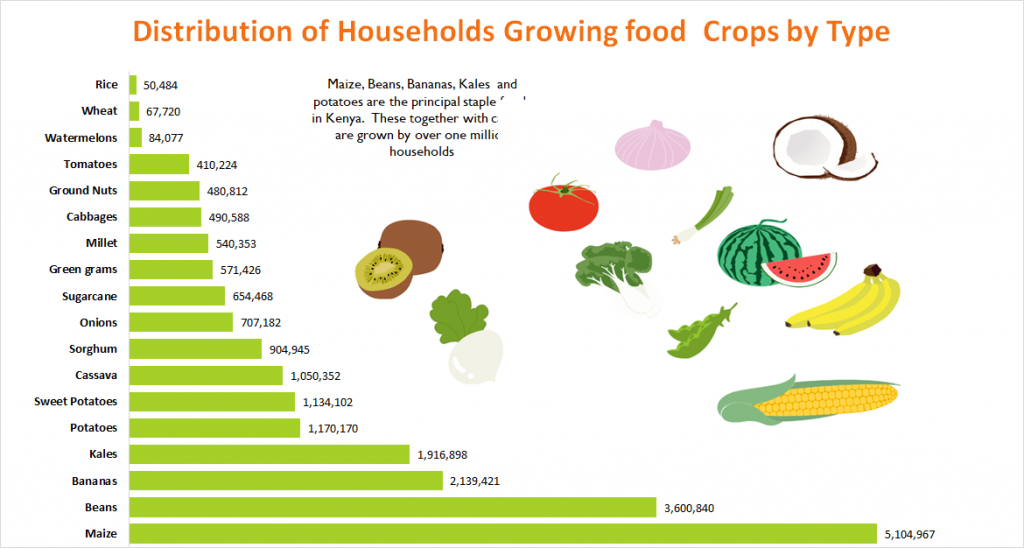 Avocado Farming is the most popular permanent cash crop in Kenya
Avocado and mango trees are the most popular permanent crops grown in Kenya. They are farmed by 0.96 Million and 0.79 million households respectively. This is far higher compared to tea, coffee and cotton growers. There is a need for investments to improve our domestic capacity to process our fruits. This will reduce the incidences of post-harvest food losses, especially when all trees have matured and actively producing. Avocadoes can literally lift a million farmers from poverty.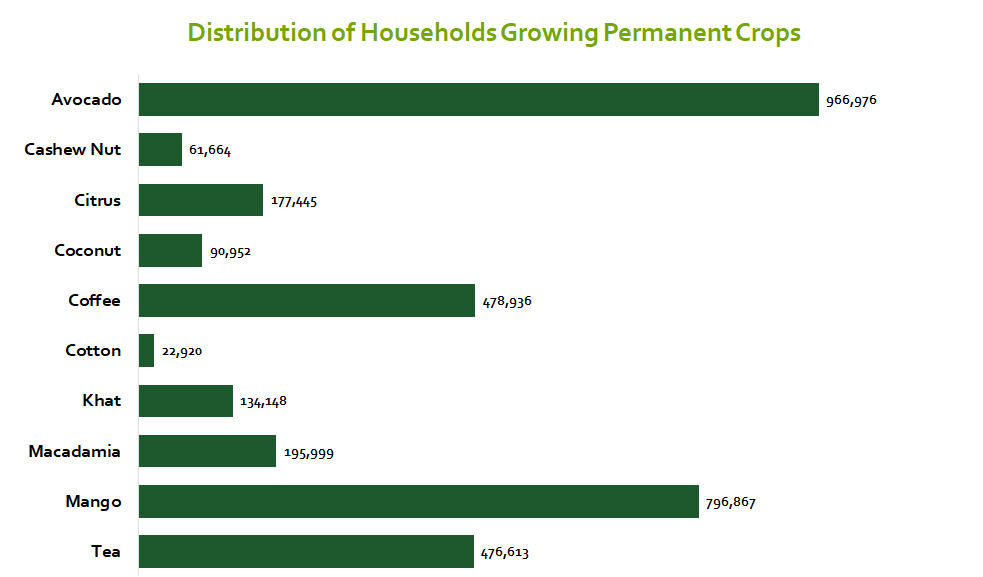 Kenya must shift to irrigation farming now!
Only 0.37 million of 6.4 million farming households practice irrigation in a country that faces a prolonged drought every 10 years.
Rain-fed crop production is unsustainable as droughts become severe and frequent. We must promote climate-smart agriculture; irrigation and fast-maturing crops to mitigate this risk.
Only 2% of Kenya urbanites have a kitchen garden
Out of 1.5 million households In Nairobi, only 0.032 million households take part in farming. Urban farming adoption is very low despite rapid urbanization. If you Farm in towns, you can harvest fruits, milk, eggs and meat right in one's backyard, balcony or rooftop.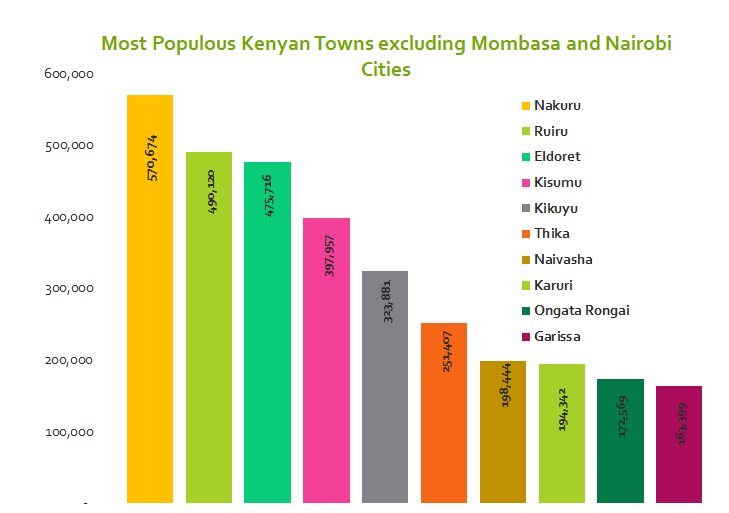 30.8 per cent (14.7 million people) of Kenyans live in towns according to the 2019 census by KNBS. The country's capital, Nairobi, is the most populous with 4.3 million people. The coastal historical city of Mombasa is second with 1.2 million people. The top ten most populous towns excluding the above cities are Nakuru, Ruiru, Eldoret, Kisumu, Kikuyu, Thika, Naivasha, Karuri, Ongata Rongai and Garissa.
This presents two unique challenges;
shrinking farmlands as we set up residential flats on fertile areas.
An older population of farmers in rural areas whose average age is around 60 years as rural-urban migration continues.
Kenya's food insecurity is worsening
Kenya has a total population of 47.6 million people. This has increased with 36.7 million people in the last 50 years. The population growth rate was 2.2 between 2009 and 2019. The population shows the current and future demand for food. The country now grapples on ensuring sustainable availability and affordability of food to her citizens. Our food security faces many threats such as climate change, disease and pest infestations.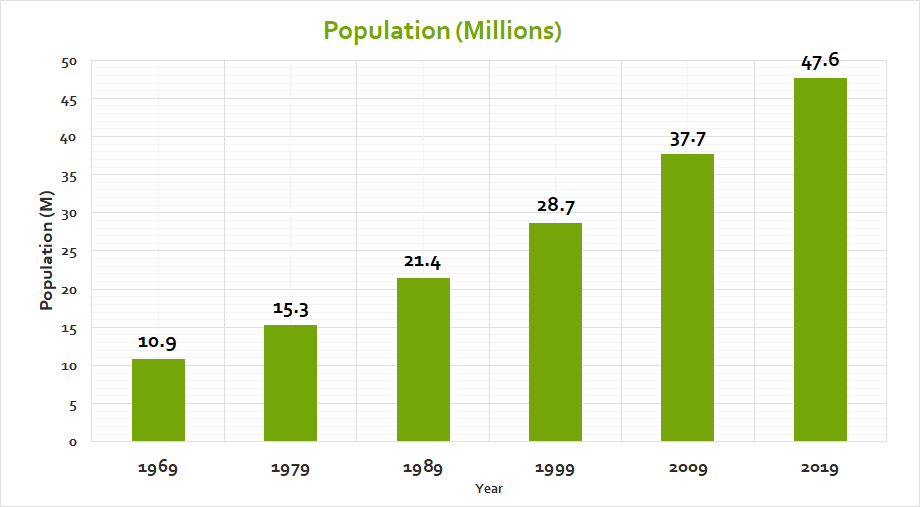 Population growth and urbanization lead to land subdivision into smaller parcels shrinking our arable land further stressing our yields.
Kenya surveys her households in a national census every ten years. The latest survey; Kenya Population and Housing Census (KPHC 2019) was in August 2019 by the Kenya National Bureau of Statists (KNBS).